Menon builds a future with NASA teen scholar program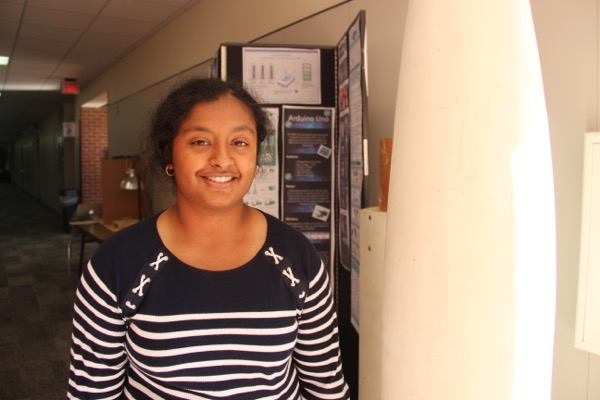 From sitting bored in an elementary school classroom, lazily folding paper airplanes, to a tour at the NASA Johnson Space Center in Houston, Coppell High School junior Nayana Menon has slowly developed her passion for engineering.
The hands on learning is leading her to more opportunities than she could imagine.
In October, Menon applied for the High School Aerospace Scholars (HAS) program, an engineering program where over 400 students complete engineering lessons and tasks online in hopes of being selected for the hands on program over the summer based on what the create.
The work Menon puts in outside of school is teaching her the importance of time management and in turn putting more of a focused lense on her passion for engineering.
Even Menon admits she is quiet and shy at first, but the community she has been welcomed to with the engineering design classes has opened her up to what the future might hold.
"I was kind of in the middle between the Health Science endorsement and the STEM option my freshman year," she said. "On the tour, the STEM program really caught my eye and I moved to engineering."
Over the course of the assignments, Menon has learned she can even combine her two interests and pursue biomedical science and aerospace engineering.
"It gives you more insight on what you want to do and gives you a real job-like experience," Menon said. "I really want to go into aerospace engineering, and the program is teaching me a lot. This is such a great opportunity to learn more about the field because I'm still learning everyday."
Menon's father, Vinod has been a computer engineer since his graduation, but following in his footsteps was not originally her plan.
"[My parents] have been really supportive, even though they know it might be difficult because I am a girl. But even my dad knows it's something you have to work for either way," Menon said.
Understanding that this is a difficult field, for not only the rigor of work but the stigma that comes with entering a male dominated field, has pushed Menon to overcome the difficulty of the program in order to be an example for other women interested in engineering.
"Participating in the NASA's high school scholars program will definitely help Nayana's dream to be an aerospace engineer," her father said. I" believe there will be many opportunities in this area of engineering in coming years."
CHS Principles of Engineering and Engineer Design teacher Mike Yakubovsky has worked with Menon all three years she has been involved in the program and initially introduced Menon to the HAS Program.
"She is really conscious of her work," Yakubovsky said. "She keeps working until she gets it right, and she has a lot of strong suits and wants to learn how it stuff works, which are all things you need to make it in this field."
Also the adviser for the Society Women Engineering club (SWE), his advocacy for women in engineering has also impacted the members of the club, including junior club president Mackenzie Becker. Becker is also a member of the solar car team and has mixed her academic passions into a possible career.
"It can be really hard going into a class with all boys," Becker said. "You go from such a normal element to being a minority. It's cool to show that girls can do it and inspire younger girls. These opportunities we are given have a chance to make an impact"
The community and the application this field has for her outside of the classroom makes it clear to her that engineering is what she was built for.
"Engineering teaches you more about life," Menon said "Everything about our lives have come from engineering. The school building and the computers, our phones. It's exciting to know what goes into it and what we can create next."