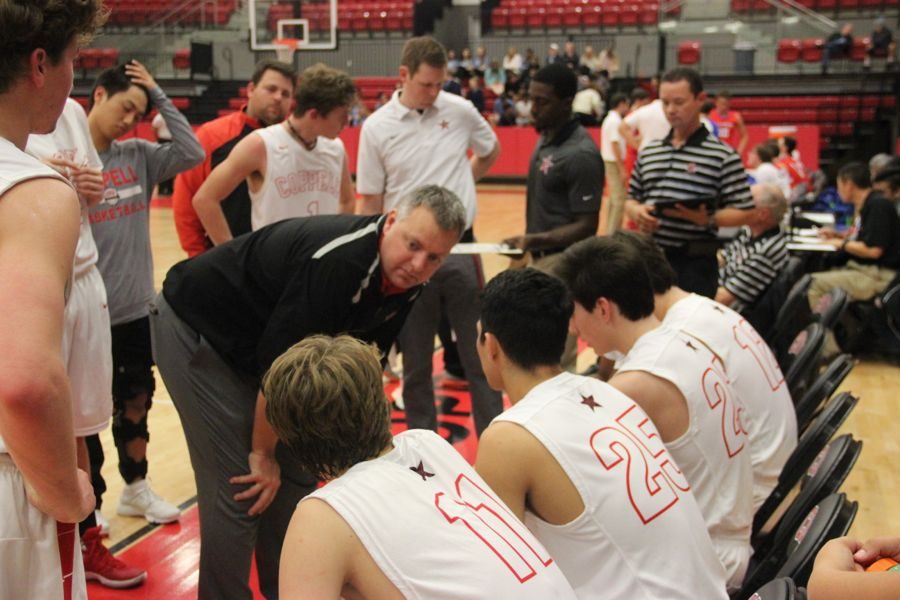 Megan Winkle
From the start of the game, Coppell (8-6) seemed off, culminating in a 55-45 loss in a game that it never led the Grapevine Mustangs (11-2). Grapevine pressed on defense from the very first possession of the game, a high-energy style of defense that they carried throughout the entire night.
"Their press sped us up a little," Coppell junior forward Kevin Galvin said. "But that was something that we saw in film and came into the game prepared for, we just struggled all night to make the right passes to the right people."
Cowboys senior forward Christian Plummer led the team in scoring with 14, six of which came off long range threes. Plummer made it clear from the beginning that he would be the main source of Coppell's offense, as he scored the first four points for the team, which came within seconds of each other due to a hustle play that created a turnover off of the Mustang inbound.
"We wanted to motion them," Coppell coach Kit Pehl said. "But instead of that, our offense took quick shots that happened to fall early but it turned into a fool's gold scenario because we just couldn't keep that up."
Since the beginning of the season, at least two of Coppell's projected starters have been out with injury. Just when they started to get healthy, senior forward Sam Marshall and sophomore guard Tariq Aman went down in last weekend's tournament in San Antonio. With these two key players injured, the Cowboys struggled to get their passing-based offense going.
Ethan Tabor, a Grapevine senior guard and three-point specialist, did not seem to care about the Coppell injuries, as he posted a game-high 16 points with four threes to go along with a perfect night at the free throw line.
Each time Coppell got any sort of rhythm going, Tabor seemed to be waiting for a corner three at the other end of the floor. Halfway through the third quarter, Coppell had scratched itself all the way back from down 10 to within three, but there he was to put the Mustangs back up six, a lead that would only grow later into the game.
Grapevine outscored Coppell in every quarter but the second, which led to the close halftime score of 22-18 in the Mustang's favor. Coming out of halftime the tide seemed to be turning in the Cowboys' favor due to a late three by senior guard Caeden Horak. But as he had done all night, Tabor came out of the break hot pouring in two quick threes in the third quarter paired with two free throws.
As it looks for its ninth win of the season, Coppell will face North Crowley next Monday, a team that is the polar opposite of Grapevine as they stretch the floor and play with an up-tempo offense.
"We are going to have to deal with 94-foot pressure," Pehl said. "They have a lot of tremendous athletes and we will have to focus and have an emphasis on that during practice."