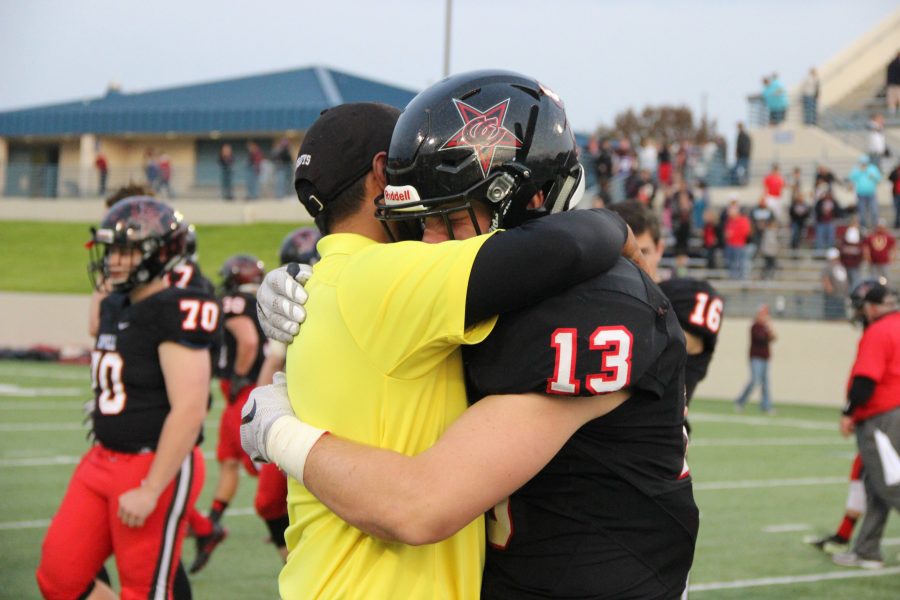 Amanda Hair
WACO — As junior tight end Pierce McFarlane crossed the goal line for a 41-yard touchdown catch with 1:38 remaining, it looked as if junior quarterback Brady McBride and the Coppell football team (10-3) had pulled the proverbial rabbit out of the hat for a third straight week.
However, the high-powered, up-tempo Round Rock (10-3) offense came up huge late, defeating Coppell in an incredible shootout in the Class 6A Division I regional semifinals, 49-45, at Waco ISD Stadium.
The offensive attack of the Dragons, which averaged more than 40 points per game in the regular season, was just overpowering throughout the game. After two straight three and outs in the first half, Round Rock came roaring back with a no-huddle, spread style that did not even allow the Coppell defensive lineman to get set.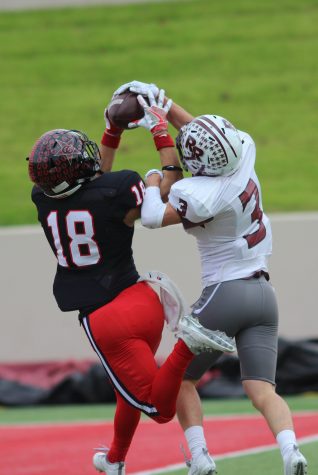 This fast-paced offense allowed for little rest for Coppell defenders, tiring them as the game wore on. Big plays that the Cowboys have been able to limit all year started to come, including a 68-yard touchdown run late in the first half, and a 46-yard pass on Round Rock's final drive that put them in position to score.
McBride and the offense was able to keep up stride for stride with the Dragons, with the junior quarterback putting up 348 passing yards and six total touchdowns. Coppell senior wide receiver Matt Dorrity continued his stellar playoff run, finishing with 134 receiving yards and a score.
"Credit to Round Rock," Dorrity said. "They played a phenomenal game. It was just back and forth, I don't know what to say. We really just gave our best, and we just could've executed a little bit better. But there's no regrets. It's been a great season."
As a part of a receiving corps that came into the year with no varsity experience, Dorrity, sophomore Blake Jackson and junior Gabe Lemons blossomed into rock-solid receivers as the season progressed. The group began to showcase its playmaking ability, especially in the last two rounds of the playoffs.
"It goes back to the work we put in with the seniors [last year]," Dorrity said. "We've got some studs, Gabe and Blake, Jonathan [McGill] came in, they stepped up, they're just ballplayers. When we put this athletes all together, we were just bound to win."
For the last few weeks, Dorrity has been McBride's favorite big-play target. But with just under eight minutes to play in this one, a shot to the end zone to the senior wide receiver was picked off. This red zone turnover, along with a fumble on the goal line only a few minutes later, kept the Cowboys out of the end zone twice late in the fourth quarter.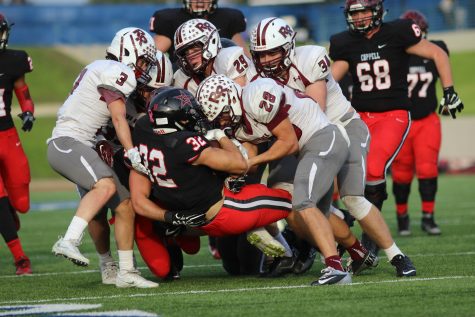 "At some point it's got to end, you just wish it wouldn't end like this," Coppell coach Mike DeWitt said. "But man, I love our kids. Just great effort all year, and I sure appreciate it."
The loss on Saturday ends Coppell's magical playoff run. However, with a team, and particularly an offense, with many young playmakers, the Cowboys are not done yet.
"This whole season, I'm just thankful for the work we put in," Dorrity said.
"We laid those stepping stones for [the underclassmen], and they're going to climb even higher. We led them the best we could."