Battle through injuries, expectations propel Cowboys into new season
As the referee blew his whistle and tossed the basketball high into the air for the opening tipoff on Nov. 15, the 2016-2017 Coppell basketball season was set into full swing. Although the new season is still young, the expectations for this talented group are set high.
Last year, the Coppell basketball team finished 27-6 overall and a 11-1 District 7-6A record, its best record since former Coppell coach Brad Chasteen was at the helm in the 2010-2011 season. So far, in the first game this season, the Cowboys have continued to look the part, cruising to a 64-54 home opener win against McKinney Boyd.
Yet something that this young team will have to work on filling in the roles of the senior leadership that left last season as well as two key injuries. The team lost six seniors that averaged 28.5 points per game as a group as well as senior guards Robin Kim (knee) and Jackson Solari (wrist) to injury indefinitely, yet other players have stepped up to fill their roles.
"[Sophomore guard] Tariq Aman has definitely stepped up and filled that leadership void, even though he is still pretty young," senior forward Sam Marshall said. "He has worked hard and earned the starting point guard job for us, and his contributions should help us throughout the season."
Aman will be a key contributor help on this team, as will Marshall, Coppell's leading scorer last year with 12.4 scoring average and shot 47 percent. In the Cowboys' season opener on Tuesday, Marshall stayed true to last season and scored 12 points, six of them coming off of 3-pointers. This offseason, however, Marshall focused on improving on this exact part of his game.
"I worked on a lot of shooting, I had a pretty bad shooting year last year," Marshall said. "I shot a ton from the free throw line, the 3-point line, and really all over. This summer, I worked on all of that and hopefully I'll see some improvement this season."
Along with Marshall's work this offseason, according to Pehl, the entire team had a successful offseason, including posting a solid preseason record.
"Offseason went really well," Pehl said. "I thought some of our better players gained more skill and we had a really successful fall, going 15-2. We might be a little beat up now, but I think we solidified a foundation for the kind of game we like to play. We worked in a couple of new additions on this team and overall we just got a lot more skilled as a team."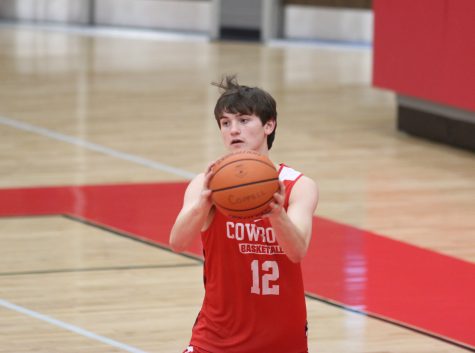 Two of those new additions that will supplement the team this season are transfers senior guard Jaylon Wilson and sophomore forward Rueben Mupandasekwa, who came from North Hills Prep and Ranchview, respectively. While both are brand new to the program, Pehl thinks both of them will be able to make an impact this upcoming year.
"Jaylon has a good perimeter shot, and his guard skills are improving as well," Pehl said. "Rueben is a really good rebounder and his interior skills have improved tremendously since he's got here. He will really be able to contribute, and because of some injuries, whether he likes it or not, he's going to get minutes. But I'm really excited about them both being on our team."
Mupandasekwa, who adds height to this small lineup at 6-6, is well needed in a strong District 9-6A with loads of talent in Skyline, Jesuit, Richardson, Richardson Berkner, J.J. Pearce and Lake Highlands who all have fairly larger lineups than Coppell. Even though the height might not add up, the matchup against Skyline is one that the Cowboys are looking forward to.
"In district play, I think all of us have our eyes on Skyline<" junior guard Parker Rodman said. "They're one of the other really good teams in the district and that'll be a good matchup."
Yet not only will the Skyline matchup be one of the toughest all season. Richardson (28-7 overall record for the 2015-2016 season), Jesuit (20-10), and Pearce (23-13) are all solid teams who all could contend for the district title.
"This district is a great basketball district, especially with Skyline, Jesuit and Pearce," Pehl said. "They are all very competitive teams. I think in the end there will be two very talented teams who will not make the playoffs that will be disappointed, just because they had the talent but this district is going to be tough."
Leave a Comment
About the Contributors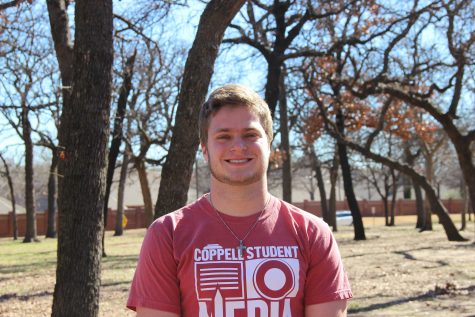 Joseph Krum, Executive Enterprise Editor
Joseph is the Executive Enterprise Editor on the Sidekick Newspaper and he also plays football for the high school. Joseph is a senior in high school...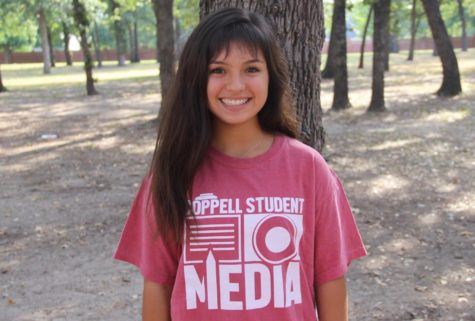 Ale Ceniceros, Photography Editor
Ale is a senior and the Photography Editor for The Sidekick. She has been involved with photography for 7 years and hopes to continue down this path in...