Prepper premiere – Patterson's time to shine
Imagine entering a red carpet walking through with media surrounded and cameras clicking. For a moment you feel as though you are in Hollywood. You feel like you have made it into the spotlight.
This is how Coppell High School Advanced Placement (AP) Human Geography teacher Andrew Patterson feels when he watches his film in the big screen during the premiere of his film. Prepper premieres on Saturday at 7 p.m. at the historic Texas Theater in Dallas.
"I really think we capture that with the premieres that we do because you got the same type of set up with you got a lot of excitement built up to this one event," Patterson said. "You have a lot of people walking down the red carpet: it's not a big or as wide or as long. But you have people packed around it. You have a number of media outlets there interviewing people. It's really really exciting as there is a lot of people in the area waiting for this film to be released and it's fun to bring everyone together."
But Patterson's excitement does not only stem from walking the grand red carpet but from seeing his film bring people and families together.
"After cast and crew walks the red carpet, we go into the theater where the producer and the director thank everyone and the film screens. That's when the magic happens when people are all together, people laugh, people are scared and intimidated and there's just this great feeling of joy of being together."
Tickets to the premiere are available at the Prepper site.
About the Contributor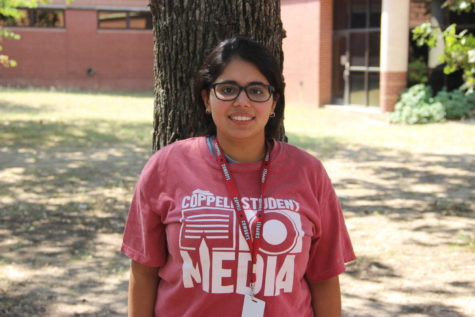 Farah Merchant, Co-Student Life Editor
Farah Merchant is a senior and third-year staff writer and Student Life Editor on The Sidekick. She also works for the Citizen's Advocate, the local Coppell...