Health and Wellness Expo enlivens Coppell residents
On Wednesday night, Coppell High School's commons area was transformed into a health haven. Instead of candy bars, chips and soda, the space was filled with salads, smoothies and healthy treats of all sorts.
The main goal of the Health and Wellness Expo, hosted by CHS for the first time, was to encourage healthy lifestyle habits for all Coppell residents.
With over 40 vendors, the expo was replete with information ranging across all aspects of health, both for internal and external wellness. With food samples, meditation tips and trainers, this event met the needs of all people wanting to lead a more balanced lifestyle.
"There's a really nice variety of [people]. You have the Camp Gladiators where they're giving demonstrations, you have the food, you have the American Heart Association," senior Jess Goode said. "[There is] a really nice mix of what people are representing here."
All of the attendees had one goal in mind: to advocate the benefits of living a healthy lifestyle.
"My goal is to promote health," said Zarana Parekh, dietitian and owner of NutriliciousbyZ. "I wanted to reach out to the community and bring nutrition education as well as offer out my services for anyone who may be interested."
Many vendors brought their own experiences with health to the table, showing residents that health and fitness is a unique process for everyone.
"I've been with the [Coppell Farmers Market] since 2008," Coppell resident Marilyn Horton said. "That's when I really woke up to how wonderful and important it is to buy local."
Event coordinator and CHS coach Angelina Curtis sought to show people, outside her usual classroom, how versatile the health and fitness world is and how it can be adjusted to meet the needs of each person in a different way.
"I feel like I only reach so many kids in my P.E. class and there's more out [people] there," Curtis said. "I want them to know there's so many ways to be healthy and fit."
The energy at CHS was palpable, with Coppell residents of all ages eager to learn about a balanced diet, different exercises or new recipes.
"[My] favorite part of the event is [the] enthusiasm of everyone in here," Goode said. "Everyone really wants to learn and everyone really wants to teach, and I think that's really the only way we can be progressive as a society towards better health and wellness."
About the Writer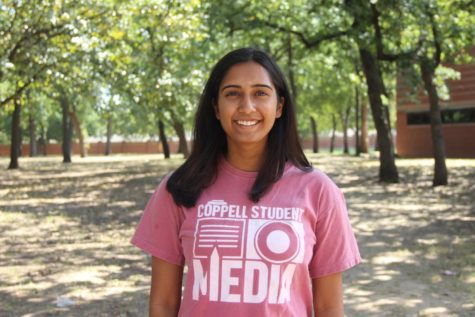 Fiona Koshy, Editorial Page Editor, Social Media Manager
Fiona is a senior and the editorial page editor and social media manager for The Sidekick. Besides writing, she loves reading, finding new music and traveling....