Early voting allows citizens to skip lines, hassle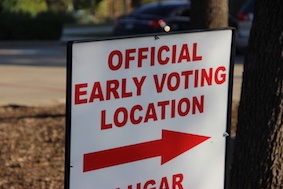 As early voting opened on Oct. 24, voting booths lined the inside of Coppell's Town Center building. Voting began at 7 a.m. and citizens of Coppell were eager to place their vote for their choice of candidate early.
Voters waited in a short line inside the building to cast their vote, using their voice in a decision that will help determine the future of this nation.
One waiting in line to cast her vote was Coppell High School senior Amanda Moehlis.
Moehlis is a first time voter who stood excitedly, not expecting the response she received when she stepped up to the booth.
"I walked in and I waited maybe five minutes in line," Moehlis said. "Then I handed a man my voter's registration card. He got me checked in and asked if I was a first time voter, and I said yes. He then shouted, 'Everyone we have a first-time voter.' And everyone cheered for me."
Moehlis, who turned 18 on Oct. 21, was able to make the deadline, Oct.11, to vote in this election.
"This election is the first election I am able to vote in and I believe that we, as American citizens, should exercise our right to vote," Moehlis said. "I don't think there's any point in waiting."
Voters in the state of Texas are swarming to the polls. Many just want to save time; others feel like they cannot wait until Nov. 8 for their voice to be heard.
Coppell resident Ben Stevens cast his vote on Oct. 24 for Republican nominee Donald Trump.
"[Trump exhibits] integrity," Stevens said. "Hillary Clinton doesn't display that to me at all particularly with regards to to servicemen since I'm an ex-military man. That was one of the issues with me. Lots of questions about the Clinton Foundation, the money, the email fiasco going on right now. It just seems like she's a robot saying a script.
"Donald Trump's not the perfect candidate but if you have to choose between both of them then that's the one I chose."
He decided to cast his vote early and when asked why his response was simple:
"I don't like waiting in line," Stevens said
Another voter expressing similar reasons for voting early was CHS economics and psychology teacher Jared Stansel.
"I hate lines," Stansel said. "Lines are my biggest pet peeve. Last time I voted in the Presidential Election, I waited for the day of and stood in line for two hours. My goal this year is to avoid that."
Coppell voters have location options for early voting:
North Lake College, North Lake Comm Lib Bldg L; 5001 N. MacArthur Blvd. in Irving.
Coppell Town Center; 255 Parkway Blvd.
Valley Ranch Library; 401 Cimarron Trail in Irving.
These locations and others will also be active voting sites on Nov. 8, general election day.
About the Contributors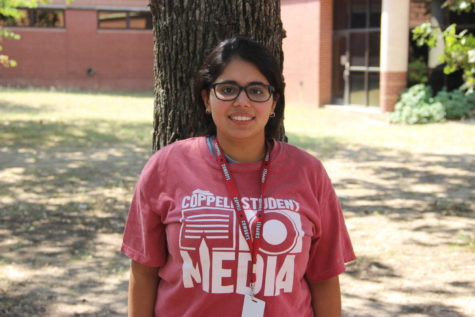 Farah Merchant, Co-Student Life Editor
Farah Merchant is a senior and third-year staff writer and Student Life Editor on The Sidekick. She also works for the Citizen's Advocate, the local Coppell...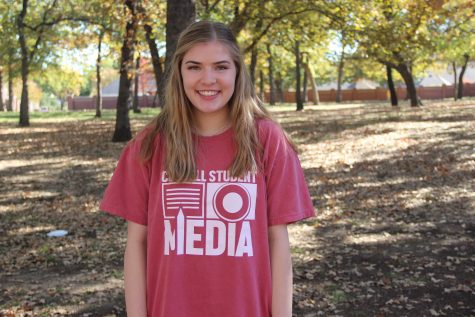 Amanda Hair, Sports Photography Editor
Amanda Hair is a senior at Coppell High School, this being her final year on The Sidekick and her first year as the Sports Photography Editor. She is also...