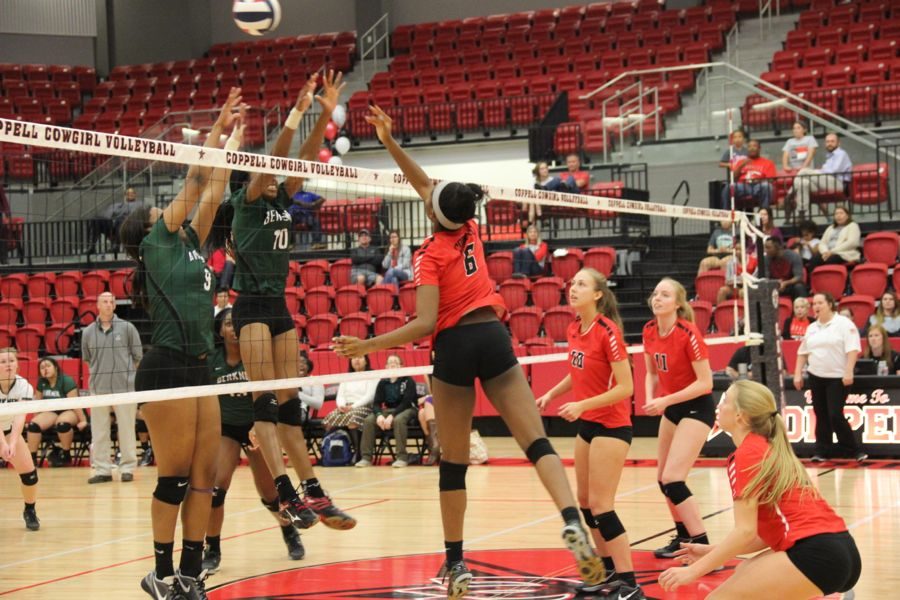 Megan Winkle
Teams can either fall apart over time, or grow together, and the Coppell Cowgirls volleyball team (27-14) has done the latter. As the playoffs approach, a look back on the regular season may have some good signs for another sustained run deep into the Texas state playoffs for the District 9-6A champions.
"Our season has been challenging," Coppell coach Julie Green said. "There's been a tremendous amount of growth, and so where we are now and how we are now is that much sweeter because we all know how much its taken us."
Often times when teams work together and build chemistry it can be bad news for the opponent, something the Cowgirls surely hope to bring to the table as playoffs begin. Coppell faces Garland (10-14) at 7 p.m. on Tuesday at Plano East to open the 2016 postseason.
"The one thing that needs to be strengthen going into playoffs is our offense," senior libero Lauren Lee said. "Our defense has been solid all year, but the deeper we go into playoffs and play harder teams they will have bigger, more effective blocks."
During the beginning of the season, the Cowgirls lost three of their first seven matches and seemed to not all be on the same page, often missing defensive assignments or having poor sets to their hitters. This is no longer the case, as Coppell finished out the season winning 12 of its final 13 matches.
"The seniors meant a lot to this team," junior defensive specialist Sam Silver said. "They were the ones that created the feeling that the team is one unit. Since it's their last season, and for two of them it's their last time playing volleyball, we just really want the best for them and make it everything that they imagined."
The playoffs bring that bittersweet feeling for seniors, yet the under team will no doubt leave everything on the court to make this a successful postseason.If Coppell advances, its second round matchup will most likely be again The Woodlands who is the Class 6A No. 11, a new playoff matchup for the Cowgirls that would be their most formidable opponent before the regional finals.