Senior Night provides fierce energy in Berkner sweep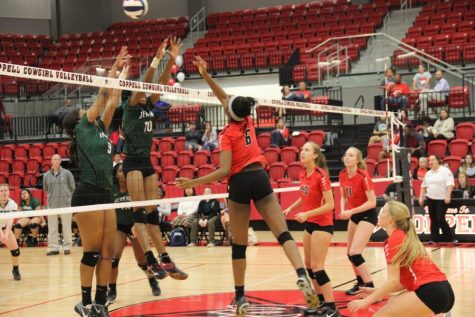 A connection that a team possesses can define the communication and teamwork that one can perform with. On Friday, the Coppell Cowgirls volleyball team  (25-14 overall, 10-1 District 9-6A) spirit kept up a high energy performance against the Berkner Lady Rams (11-13, 1-7)  for a 3-0 sweep on Senior Night.
As parents and friends celebrated outside hitters Katie Herklotz and Grace Keaton along with libero Lauren Lee for their dedication and achievements in their high school volleyball careers, it was clear they everyone in the Coppell High School arena was there for the Cowgirls' support.
"I thought we played really well," Coppell coach Julie Green said. "We gave our seniors a little extra playing time tonight and they really took advantage of it."
Coppell took an early lead in the first set 4-1. Powerful hits by Herklotz and junior outside hitter Breanne Chausse led the gameplay on the court. Maintaining a comfortable lead throughout the first set, the Cowgirls relaxed and were able to enjoy their last home game and took the first set win 25-16.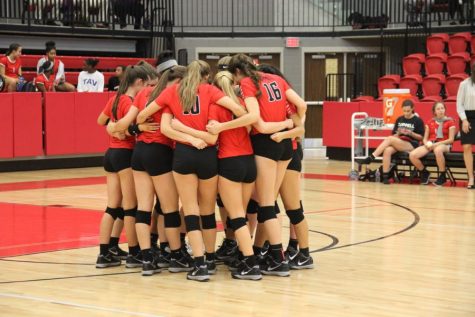 "We just stayed as a team the whole time and played through some of the difficult situations," Herklotz said. "Since it's our last home game I'm definitely going to miss it here."
Berkner started the first set with fierce plays, leading for the first half of the set. But as Coppell went back into its typical rhythm, some wild hits from Berkner and leadership by Lee brought the team back, winning the set 25-11.
"Our hitters did really well seeing across the net," Lee said. "Having a strong block is really important and I think we struggled with that overall. But giving one last good [home] game before I graduate made it really fun."
Distributing the offense throughout the third set kept the Cowgirls on top of Berkner's aggressive yet occasionally wild offensive plays. Serve and receives from both sides proved to be a struggle, but swayed into Coppell's favor, ending the night 25-13 for the sweep.
Already taking the title of District 9-6A champions before the last match in district play, Green is expecting to finish with a strong post season based on the performances she has seen.
"We're focusing on outside play, mostly blocking in order to have solid defense," Green said. "We've had some really great experience on the back line which has helped a lot this season so postseason hopefully will be able to highlight that."  
Leave a Comment
About the Writer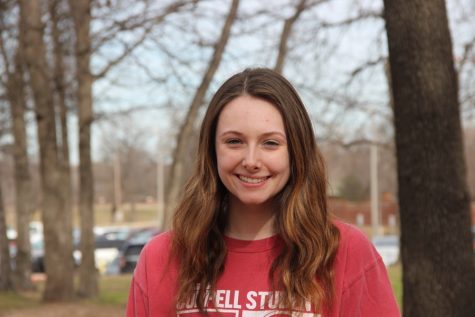 Kathryn Rudd, Entertainment Editor
Kathryn Rudd is a junior and a second year member for The Sidekick newspaper. When she is not working for The Sidekick, she can be found working at...