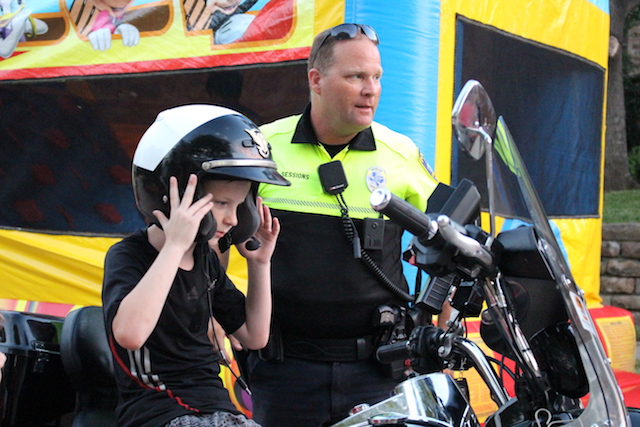 Kelly Monaghan
You walk up to the block party; a policeman is helping little children try on his helmet and sit on his motorcycle, there is a bouncy house is full of laughing children, people laugh and talk while the smell of hot dogs and other food wafts through the music filled air.
You might not have guessed that it was National Night Out but, instead, a typical community occurrence.
The Coppell community has held National Night Out for many years and consistently ranks in the top two in the nation. The reason for this was evident– Coppell had 70 parties throughout Tuesday night.
Coppell city councilman Marvin Franklin expressed his pride at how the community had come together and the positives that come from the night.
"Our primary purpose in going to these parties is to build camaraderie and build relationships," Franklin said. "It's really a night where the whole community can come together, in a lot of different ways."
Coppell citizen Cathy Burrows also believes that the night contributes to the positive relationships between the police and the citizens they protect.
"I think if people believe that they're having problems with their local law enforcement it's really important that they do participate because it's better to do something about the problem then just sit back and complain about it," Burrows said.
The night also helped to ease any tension that people might have about the police.
"Getting people closer to police officers, [because] some people have a fear of the police, and to see police officers greet everybody and have a hot dog, it really helps calm concerns about what they are like and what they're trying to do," Franklin said. "All those things combine to create goodwill and respect for the officers."  
Coppell police officer Casey Sessions testifies to the possibility of a positive relationship fostering a mutual respect for the community and their police.
"Coppell is a great community to live in and to work for and serve," Franklin said. "The great thing about Coppell is everyone here really appreciates the work that the police do here and in turn we enjoy serving you all."
There were only plaudits for the Coppell Police Department and their community last night, from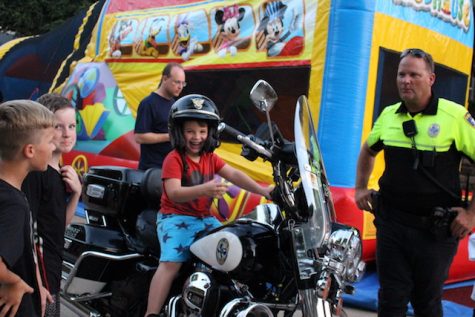 the police department's organizational style (setting up the night was no easy task), to the participation level of the citizens.
"Our police department does a great job communicating with the different neighborhoods and the communities," Franklin said. "The spirit of volunteerism in Coppell is very high with almost everything we do."
National Night Out brought a positive spin to what is normally considered to be a tendentious issue among people: police relations. Cops, adults, kids and pets were all brought together last night to enjoy the community they live in.