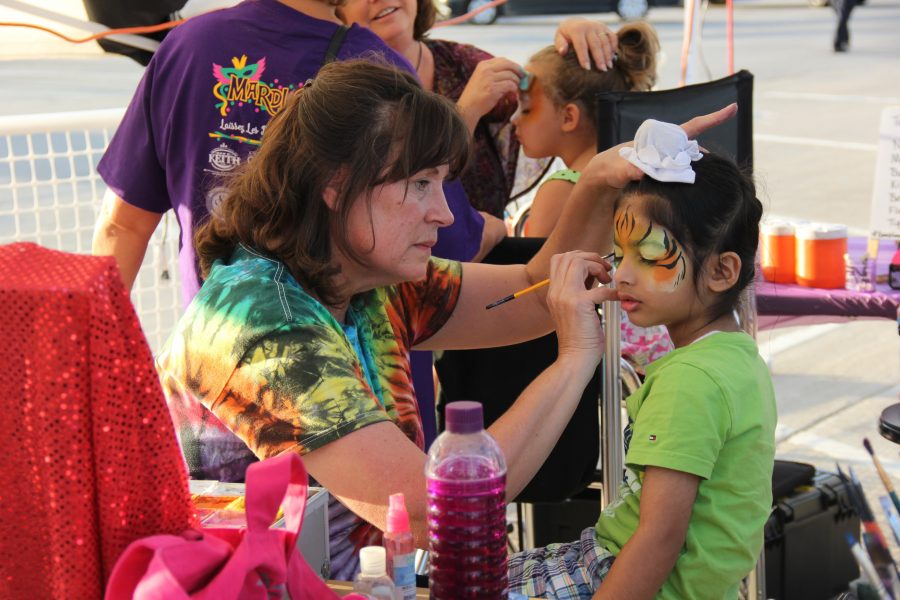 Mardi Gras comes to town early this year
October 6, 2016
"Let the good times roll!," one woman said as she clinked beignets with her friends.
This Cajun French saying, encouraging people to live to the fullest, perfectly summed up the Mardis Gras event which took place at the Square in Old Town Coppell this past weekend.
Filled with music, laughter and cheer, Coppell's first fall Mardi Gras event, on Saturday, brought a Louisiana born holiday to the small town of Coppell.

Traditionally celebrated in February as a last hurrah before Lent, Mardi Gras is a holiday that consists of parades, parties and all sorts of seasonal festivities. This year, however, the City of Coppell and Dodie's, a Cajun restaurant in Old Town, teamed up, bringing the spirit of Mardis Gras to Coppell for a night.
With live jazz music playing throughout the night and smells of Cajun food filling the air, some may just as easily have mistaken Coppell's atmosphere for that of New Orleans.
"It's so cool that there's all these really different organizations in Old Town Coppell that come out and do this," Coppell's special events coordinator Kami Mcgee said. "When we all come together, it's a really cool event we [end up] creating."
The event was aimed at adults and children alike. Stations were set up along the periphery of the event, giving kids a chance to bedazzle masks provided by Coppell Arts Council, take pictures in a prop filled photo booth courtesy of Coppell Chamber of Commerce or get their faces painted. Adults could peruse items, such as those at the Let it Shine boutique booth, while enjoying the music.
Under the pavilion, Dodie's served authentic Cajun cuisine such as  gumbo, etouffee, jambalaya and of course, beignets. Lemonade was provided by the Local Diner and cupcakes were made by Frost Cupcakery.
"The event's [had] a really great turnout," Dodie's waitress Jessica Hall said. "It stays pretty packed and consistently busy which is good."
According to Mcgee, around 4,000 people came to the event.
All across the lawn, families laid out their blankets and sat to hang out, talk and enjoy the music. Food trucks lined the grass, offering ice cream sandwiches, coffee and other treats.
It proved to be a fun filled night, with kids setting up hammocks under the pavilion, splashing around in the fountains or running around the park.
"The crowd is awesome, and I think [the event] is pretty well received," Mcgee said. "We're hoping to do it every year."
Follow Fiona on Twitter @fionakoshy10