Seniors pull through, get big win on Senior Night
Pure domination is something Coppell tennis (10-3 overall, 5-0 District 9-6A) is getting fairly good at.
In a convincing 19-0 district win over Skyline, Coppell, on their Senior Night match, kept their perfect district record and added yet another dominating win to a schedule full of them.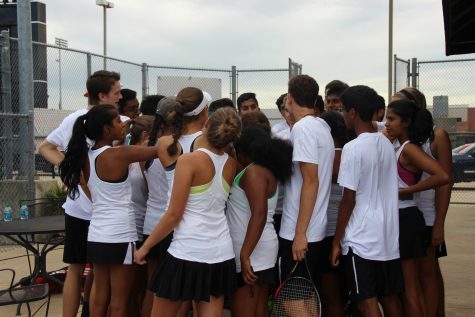 With all of the wins for the team, one was even more special than the rest. Erin and Nicole Crumpler, playing in their doubles match, served up a golden set, not allowing the opponent to even win one point.
"Getting the golden set was huge," Nicole Crumpler said. "It was my first one of the year. Normally I will lose it by just double faulting or making mistakes, but throughout the match it was important to not let our opponents get down on themselves."
Throughout each of the matches, Coppell overmatched the Raiders, winning each set 8-0 or 6-0 except for one. Even though each match seemed to be easily won, coach Rich Foster thought that the team stayed focused and played well.
"Their coach told me that some of their players were true beginners, and sometimes that makes it difficult to keep focused," Foster said. "There wasn't any true doubt that we would [possibly] lose the match, but the way that our kids stayed focus and won almost every single game, speaks phenomenally especially on Senior Night."
The Senior Night festivities, which included cupcakes and essays, was capitalized with many seniors getting big wins themselves on their last home match of the year. One of these seniors, Akhilesh Pillai, dominated both his doubles and singles matches, something that was bittersweet for him.
"It was nice, but I have spent four years with this team and the fact that it is finally coming to end is hard," Pillai said. "It was a good win and a great four years, I've had lots of fun with these guys, it's going to be hard to leave."
Follow Joseph on Twitter at @joseph_krum.