Coppell volleyball looks ahead to playoffs, state tournament
Coppell varsity volleyball has begun their District 9-6A season with a strong lead in the district standings. On Tuesday, the Cowgirls (19-13, 4-0) defended their undefeated district record, winning 3-0 over W.T. White.
The team has its sights on undefeated district record.
"We're playing really well," Coppell volleyball coach Julie Green said. "Our goal would be that we're playing our best ball during district and towards the end of district. I think that we're headed in that direction. We're definitely playing better now than we did a month ago."
The Cowgirls ended their non-district season games with a loss to Hebron.
Their first district match was against Richardson, whom they defeated 3-0 on the road. The Cowgirls continued their undefeated streak by beating Lake Highlands, one of their strongest  District 9-6A opponents. They recently defeated Skyline and W.T. White both 3-0.
"Right now, we beat Lake Highlands in five [sets], and Lake Highlands just beat Pearce in five [sets]," Green said. "So I think we clearly understand that Lake Highlands and Pearce are our toughest competition. We have have Pearce coming up in a week or so. Right now that's kind of our kind-of our big focus; since we know that they're tough. We want to continue to stay undefeated."
The Cowgirls have a rematch with Pearce on Oct. 5 in Richardson.
The big picture painted by Green and senior outside hitter Katie Herklotz is to go to state, and Herklotz thinks that the new district reshuffling could help the Cowgirls accomplish this.
"Being in Region II will give us a pretty big advantage over the teams in area one," Herklotz said. "They'll fight each other out; while we only have to fight one of those really good teams in order to get to the state tournament. We have a really good chance of going to state."
About the Writer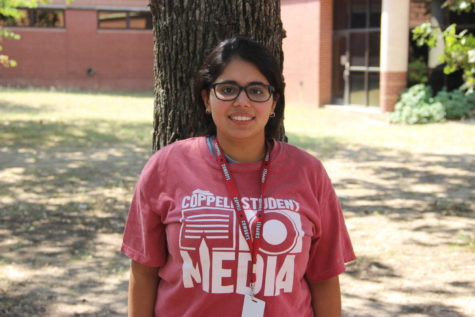 Farah Merchant, Co-Student Life Editor
Farah Merchant is a senior and third-year staff writer and Student Life Editor on The Sidekick. She also works for the Citizen's Advocate, the local Coppell...