A resonating performance: Cowgirls beat Skyline in three sets
A new district comes with new teams, and the first ever district matchup in girls volleyball for the Coppell Cowgirls (16-9 overall, 3-0 district 9-6A) and the Skyline Lady Raiders (2-10, 0-2) was a quick one. The Cowgirls won in straight sets, only allowing Skyline to score 16 points over the three set match, displaying a dominant defensive performance.
"[CHS coach Julie Green] had set goals for us before the game," junior defensive specialist Sam Silver said. "That was just so that we could continue to push ourselves and get better no matter what the other team was doing."
Many times, especially in high school sports, teams tend to play down to the other's level. Friday night was not a case of that.
Solidifying itself as the No. 1 team in District 9-6A at 3-0, Coppell showed its depth, scoring most of their points on the night from substitutes. Yet junior middle blocker Riley Ross showed just why she is one of the most dominant players on the team.
The first set was all Ross, who seemingly killed or set up every point for Coppell. Coupled with a thirteen point serve rally by junior right side hitter Breanne Chausse, Coppell cruised through the first set with a final score of 25-3.
"We executed, that was the difference tonight,"  junior defensive specialist Izzy Hall said. "Coming into the game we weren't sure what to expect, so we just made a plan to play our best and that is exactly what we did."
Senior outside hitter Katie Herklotz had a powerful kill during the second set to put Coppell up 12-5. The hit was so powerful that it ended up flying into the standing after being buried on the Skyline side. This point pretty much summed up tonight.
Starting 3-0 in district is no small feat, especially when coming into a new district with teams that may be new opponents for Coppell, yet the selflessness of the team is the overcoming factor.
"All of our games have been really different, so to come out with all three wins took different types of efforts." Green said. "Our girls are playing really well together, and it's really unselfish volleyball. Our offense is evenly distributed and unselfish, I don't think any of our kids care about stats."
Coppell faces W.T. White on Tuesday in the Coppell arena, as the Cowgirls hope to stay perfect in District 9-6A.
About the Contributors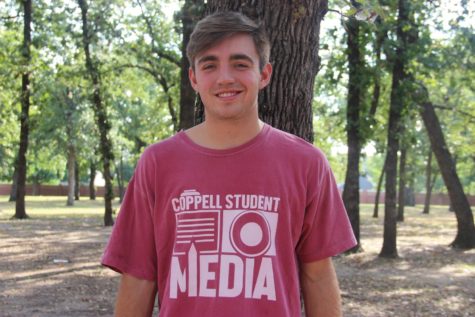 Reid Valentine, Sports Copy Editor
Reid Valentine is a third-year staffer on The Sidekick who is mainly a sports writer with a passion for feature stories. His dream since being a child...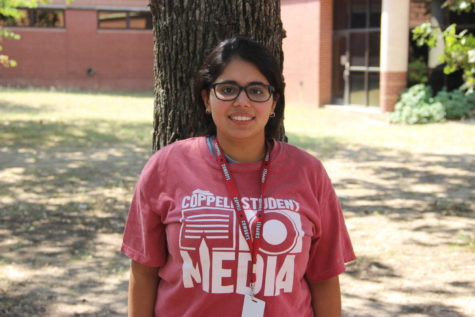 Farah Merchant, Co-Student Life Editor
Farah Merchant is a senior and third-year staff writer and Student Life Editor on The Sidekick. She also works for the Citizen's Advocate, the local Coppell...