Lone (Five) Star: Choate finds home as one of nation's top deep snappers
He is, according to Kohls Kicking Camp, Coppell football's only five-star recruit. He is the fifth ranked player at his position in the entire nation. Yet Connor Choate does not need the spotlight. Since he first took the field as a varsity player in the fall of 2015, that is never what the senior long snapper has been about.
"It comes with the position," Choate said. "All long snappers just know that you're not really going to get any press or publicity."
While publicity from national sports outlets or recruiting analysts may not come his way, Choate is still highly regarded as one of the best in his class at the long snapper position. Ranked fifth in the United States by Kohl's Kicking Camp (the camp that does the official rankings for specialists for ESPN), they describe him as "one of the most consistent snappers in the 2017 class," and "a rock solid snapper who will benefit any special teams corps in the country."
This position, while obscure as some may think it is, is one that, over years of youth and middle school football, Choate became accustomed to.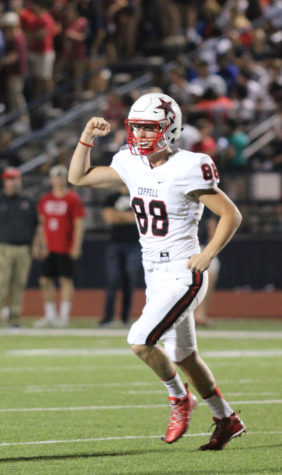 "I was a pretty thick kid growing up, so I was always the center," Choate said. "My brother was a center when he played football, too, and he also taught me the very basics of being a center. I would do field goal snaps, too, with my youth team, and that's basically how I got into it."
However, he abandoned the position when making the jump to middle and high school football, moving to outside linebacker and tight end. But soon, Choate would find his way back.
"Going into my junior season, after [my sophomore] season was done, I was on JV2," Choate said. "I was like 'how can I get on varsity and suit up for Friday night?' I've always done snapping, and there wasn't a long snapper for next year, so I went up to [Coppell coach Mike] DeWitt and I was like 'what would you think of me being long snapper?' and he said 'We'll see how the spring goes and get back to you at the end of spring.'"
By the end of spring practices, after hours upon hours of work perfecting his craft, Choate had emerged as the sole long snapper for the varsity team. What began as simply something he did as a youth football player had grown into his ticket onto the varsity roster.
"It's super cool, because he's passionate about it, it's something that he did all on his own," Choate's mother Gayla said. "It's something that he realized he had a natural talent for and he just kind of took it and ran with it, and he was basically self-taught."
At a position where most only get noticed if they bungle a snap late in a game, the value of a good snapper may not be fully recognized.
"It's for sure undervalued," Choate said. "Being a long snapper, you're not going to get the glitz and the glamor that the skill-position players get, but that's how the position should be, because if you're noticed, you're probably not doing your job right."
While he may not be noticed on the field, he sure is noticed off of it. Described as a "funny guy" and a "character" by his teammates, the senior long snapper's laid-back demeanor is one that has become infectious to his varsity teammates.
"There's so many jokes he cracks that are just so funny," senior holder Matt Dorrity said. "He has so many great impersonations of people that it really gets the mood going in the locker room. We always just joke around with him. He's a great person to have with us both on and off the field."
"
"That also comes with by job, Just being that funny guy in the locker room."
— Senior Long snapper Connor Choate
But as he takes the field for anywhere from eight to 15 plays on Friday, his attitude changes. There is a stark difference between Choate's off the field goofiness off the field and his disposition when it's game time. At this position, mediocrity is nothing. Perfection is everything.
"It makes my job easy to know I have a guy like that to snap it to me," Dorrity said. "When I was on JV, the snap difference, while the speed you may not notice as much, but the placement. Choate will put it right where I need it, while pretty much any other long snapper I've ever caught one I've got to guess where it is."
His desire for precision is shown in no better scenario than on Sept. 2 when the Cowboys visited McKinney Boyd. Midway through the second quarter, Choate jogs to the middle of the field for a punt. After his snap zips to the punter, slightly above chest-high, Choate walks off after the play.
"Was that a little too high?" he asks.
Several minutes later, the Boyd snapper lofts one of two horrendous snaps back to the punter, forcing him to jump, then, trying to quickly get the kick off before it is blocked, shanks it for 29 yard punt.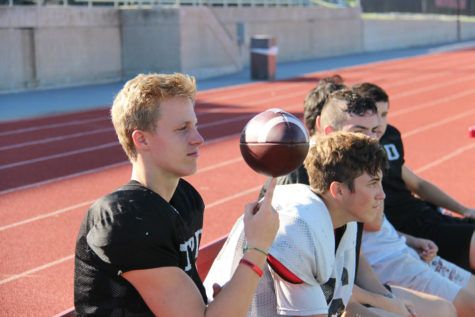 "It's huge," DeWitt said. "Especially when you look at trying to protect a punt or a field goal, the faster you can snap it the more time your kicker or punter has, so it's really been a weapon for us."
For Choate, the change of position has, to an extent, changed his life. Since his move, he has begun talking to many big-name schools, including Oklahoma State, Texas Christian University, Arkansas and others.
"I'm very excited," Mrs. Choate said. "We're just going to be supportive, and it's just really fun to see your kid be so good at something they're passionate about."
He has even begun to have aspirations of snapping professionally.
"For sure that's an aspiration I have," Choate said. "It's a pretty nice gig if you ask me. You just get to go out there, snap the ball, doing the same thing you've been doing since middle school, but for a lot more money, and a lot more people there."
In his year and a half as the deep snapper, Choate has put in hours of work, gone to many camps, and exceeded everyone's expectations, including his own. Midway through his senior season of football, the long snapper who has been called  "hilariously silly" clearly has much yet to come.
"It's a great feeling," Choate said. "When I started this, I was just doing it to get on varsity, I never thought I would have the opportunity to play in college, and maybe even have my college paid for. It's just been awesome."
View Comments (1)
About the Contributor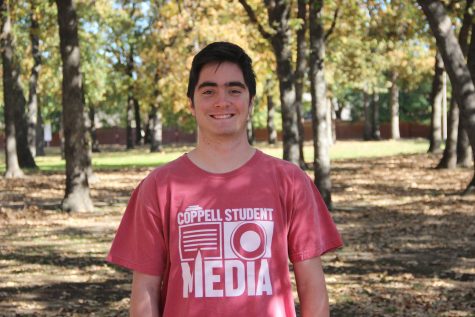 Marcus Krum, Executive Sports Editor
Marcus Krum is a senior at Coppell High School. In his third year on staff, he is the sports executive editor. In his years on staff, he focuses mainly...