Coppell Car Show provides platform for car restoration enthusiast
On Saturday, a stroll through the Old Town Coppell square felt remarkably like stumbling into a time loop.
Down seemingly endless rows of parking spots sat antique vehicles of all and any era imaginable, each with their hood popped up and an information sheet detailing the car owner, model and class for spectators to evaluate before casting their ballots.
Now in its third year running, the Keller Williams Coppell Car Show continues to be one of the largest fundraisers of the year for the Coppell High School Solar Racing Team. Working in partnership with Keller Williams Realty, the competitive event has grown from a small parking lot to an entire square that boasts both incredible cars and increasing traction.
CHS senior Cole Bennett has been involved with the team long enough to personally witness this growth.
"[The show] started my sophomore year," Bennett said. "It's been amazing to see how many new cars have been coming each year. It just gets better and better."
For some students, however, this event extends beyond a simple fundraiser.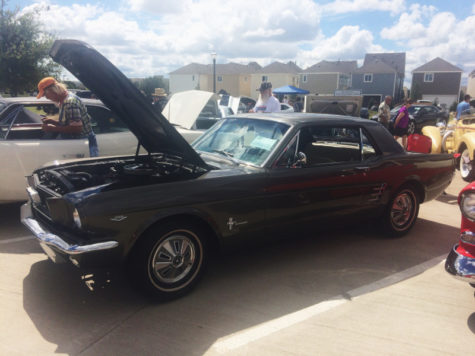 CHS junior Joey Patterson is one such student.
A former member of the Solar Racing Team, Patterson entered in the competition with his own car, an old Mustang coupe. Originally acquired from a family friend, Patterson describes the initial state of car: the engine would not run, it was rusted through in most places and only one of four wheels would turn.
Over the course of six years, Patterson and his father Joe Patterson were able to restore it to near perfect condition.
Even as a child, Patterson was intent on accomplishing the extraordinary and unusual. While automobiles were a popular field of interest among his friends, he strayed from the typical obsessions with the latest models, instead discovering a love for the classics.
Despite his young age, Patterson displays a surprisingly quaint view of the world. His preference for the old-fashioned carries over into other aspects of his life, and seems to define a significant part of who he is. Patterson did not purchase a smartphone until eighth grade, and learned much of what he knows today regarding cars through old manuals as opposed to online research.
"My mom calls me an old soul, because I'd rather do things the old-fashioned way," Patterson said.
Throughout the restoration process of the Mustang, Patterson also juggled the responsibilities of keeping up his grades, playing for the CHS JV football team and working as a lifeguard at the Coppell Aquatic Center.
When asked how he was able to also fit such an enormous project into his packed schedule and stay motivated, his philosophy is simple.
"If you're really passionate about something, if you really have a desire to do something that you care about, then you'll do it. You'll find time for it," Patterson said. "I wouldn't be lying to you if I told you I had my mom just leave dinners out on the back porch for me while I'm just working on [the car] out in the garage. Once you say 'oh, I'll do it later,' you'll never get it done."
Patterson also attributes a large part of success with the car to his father, who aided him greatly in all aspects of support, direction, and investment.
Now, after years of hard work, Patterson is able to show off his finished product at events like the Coppell Car Show, which provide him with both a presentation platform and a forum for discussion with those who share his passion.
Meanwhile, the Solar Racing Team has a similar opportunity to showcase their own projects from the previous year and converse with like-minded individuals.
"At a car show, you get more people that want to talk and ask questions because it's things that they're interested in," CHS junior solar team captain Mackenzie Becker said. "It's really cool for us to have that community."
About the Contributor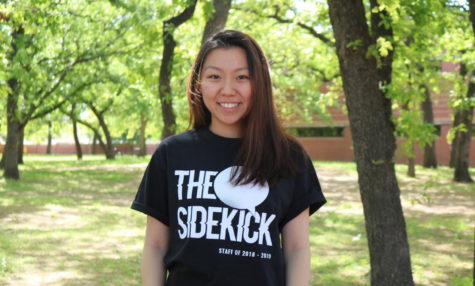 Kelly Wei, Editor-in-Chief
Kelly Wei is a senior staffer, serving her third year as Editor-in-Chief. In her free time, you can probably find her hiding out in a boba cafe with her...