Breaking Stereotypes
Shen becomes first male member to join Coppell color guard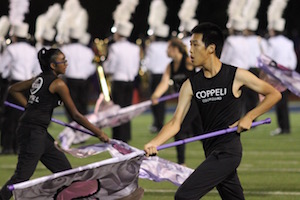 Heart pounding against his chest, Dennis Shen smiled big as the performance came to an end and the crowd erupted into applause across the stadium stands. He had done it. According to color guard director Matthew Rummel, New Tech High School senior Dennis Shen has become the first male member to join in and perform as a Coppell color guard.
After being a band member for the last six years, Shen looked to start something new that would allow him to not only stay in band, but also enjoy performing out on the field.
"Originally I was going to audition for drumline but I turned that down," Shen said. "I had a lot of fun trying out for color guard and it really gives me a chance to do something on the field that I truly enjoy."
Since he joined, Shen has had a positive impact on color guard as a whole.
"It's really not any different as far as what we do, but he makes it more fun and it's a new experience for everybody," Coppell High School senior color guard captain Christina Davidson said. "Everybody loves Dennis. He always wants to learn, whether it's in his choreography or not, and it makes everybody so much more happy and excited."
Not only has Shen influenced his team, but he has also generated change and created a pathway between males, band members and color guard.
"Dennis has had a huge impact on the culture of the whole band," Rummel said. "As soon as he joined, there were suddenly a lot of boys very interested in figuring out how to toss equipment and there's usually a group of 15 or 20 of them that will stand outside of my office and spin while they're waiting for their parents to pick them up."
Many around the school have taken a notice in this change. Despite some opposition to this break in stereotype, Shen has remained optimistic.
"It's been interesting," Shen said. "The guard people obviously support me a lot, but outside of guard, a lot of people think it's really weird because I'm the first guy, but it's really fun. It's worth it."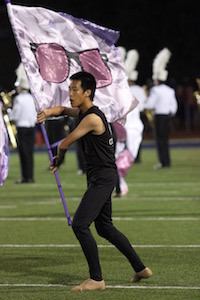 After taking notice in the change that Shen had started, CHS senior color guard captain Lara Collins is proud of his attitude inside and outside of practice.
"He has a great personality and he's always trying really hard," Collins said. "Many people say that color guard is a girl sport and men shouldn't be allowed in it, but Dennis is staying strong and he's doing well. Him joining us just opens up those doors for males to come in and see that it's more than just a female sport."
The color guard looks forward to working with Dennis and exploring new dance combinations.
"The great thing about this is that he just opened up a world of opportunities for us to be able to do a lot of different concepts now that we have both male and female characters to portray," Rummel said. "We'll have winterguard auditions Nov. 15 and 17 and there are already several boys who have expressed interest."
As the year moves forward, Shen hopes to inspire more students and advises them to chase after their dreams no matter what.
"I hope students can learn not to worry about what other people might say or think about [them]," Shen said.
"Just do it. If it doesn't work out or people tease you, it's OK, but it shouldn't affect you. Just be yourself and do whatever you find that you enjoy."
About the Contributors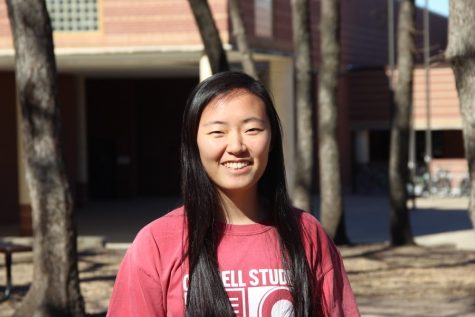 Jessica Jun, Staff Writer
Jessica (Jesse) Jun is a senior and second year staff writer for The Sidekick newspaper. She hopes to pursue her passion in writing by sharing students'...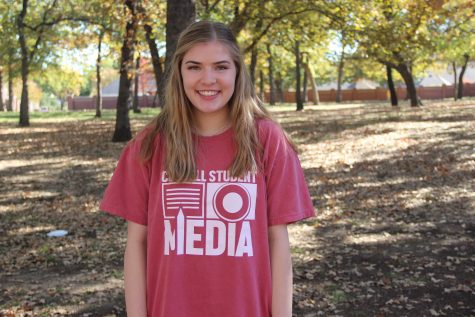 Amanda Hair, Sports Photography Editor
Amanda Hair is a senior at Coppell High School, this being her final year on The Sidekick and her first year as the Sports Photography Editor. She is also...