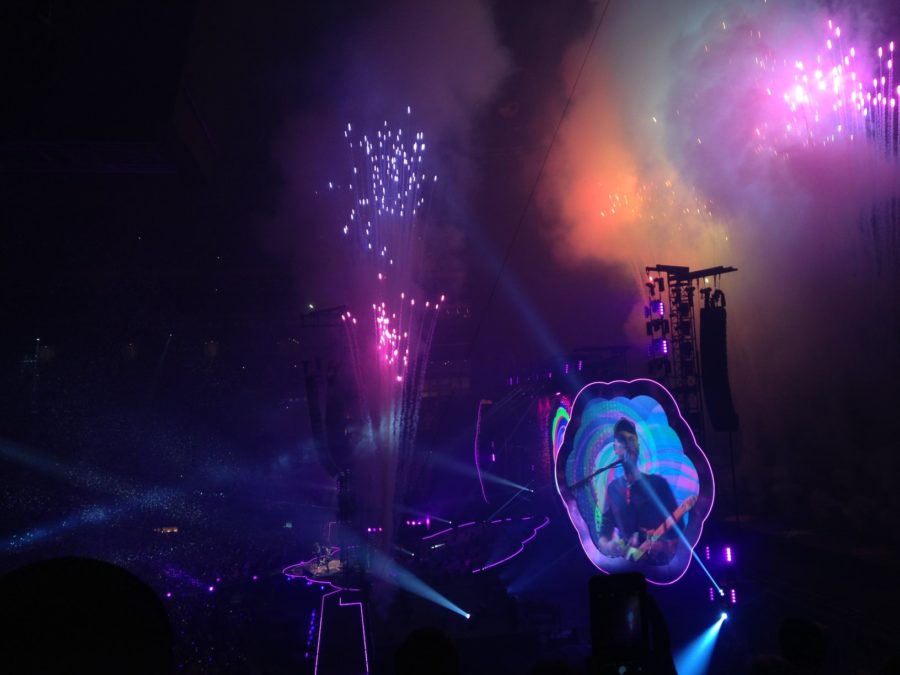 Coldplay lights up stadium on its A Head Full of Dreams tour
September 1, 2016
ARLINGTON – On their A Head Full of Dreams tour, Coldplay lit up the AT&T Stadium with an incredible performance that blew everyone away on Saturday. Going on its 20th year as a band, Coldplay performed songs off its very first album from 1996, to songs straight off its new album, A Head Full of Dreams.
With a capacity of up to 80,000 people, the AT&T Stadium was the ideal place to hold such a concert. Alessia Cara, a Canadian singer and songwriter of just 20 years old, opened for Coldplay, inspiring everyone with her poetic way of translating her experiences into songs. After the opening act, everyone waited in anticipation for Coldplay to come out.
The band made a bold entrance, illuminating the stadium in a vibrant red that emitted from the crowds wristbands which we had received upon walking into the stadium. Coldplay's first song, "A Head Full of Dreams", was accompanied by fireworks, energizing everyone for the night ahead.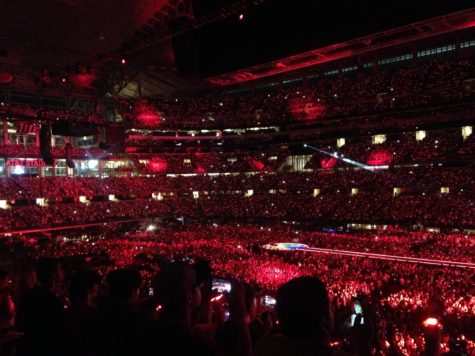 At the start of the next song, "Yellow", the entire stadium flooded with a bright shade of yellow, with yellow balloons and confetti released from above. Every song had its own unique sequence of colors and special effects, making each audience member's LED wristbands a part of the production.
The band's energy remained high throughout the entire show, with lead singer Chris Martin occasionally running down the confetti littered runway to the adjoining satellite stage. Whether the crowd was lit up with color, covered in confetti or bouncing along with beach balls from above, everyone was energized from start to finish.
Amidst the excitement, however, there were more serious moments when "Amazing Grace" was played and when a recording of Muhammad Ali voiced that "we need somebody in the world to help us all make peace". Although the special effects were an amazing addition to the show, the band moving onto a smaller stage for an acoustic set of three songs showcased their musical ability and brought us back to when they first began performing in the 90s.
At one point during the show, the band took a request from Instagram to perform "In My Place," a song from its album A Rush of Blood to the Head. Towards the end of the concert, the audience sang happy birthday to a behind-the-scenes member of the band, Phil Harvey.
At one point,  Martin  jumbled the lyrics to "A Sky Full of Stars," a song from their album Ghost Stories, and, apologetically, restarted. Coldplay brought a certain sound to the stage that unveiled a whole other side to its music filled with a depth and emotion that could only be experienced live.
Moments like these show how such a famous band can still remain so true to themselves and make the night unforgettable.   
Loading ...