Stubblefield's musical career comes to a crescendo (with video)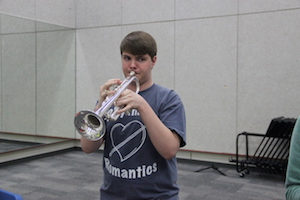 You enter the concert hall and look around for an empty seat. The concert hall is packed with people eager to hear the next trumpet finalist perform. The next finalist walks onto the stage, closes his eyes and begins to play his piece.
Captivated by his performance, everyone is in awe.
As the last note leaves the instrument, he lowers his trumpet and opens his eyes. And suddenly, the room erupts in applause and praise as a smile devours his face.
On March 12, Coppell High School senior Christopher Stubblefield competed in the National Trumpet Competition — the largest competition of its kind in the world.
"This is actually my fifth time competing in the National Trumpet Competition," Stubblefield said. "I started in seventh grade when my private lesson teacher introduced me to it. I won second place that year, which was really exciting."
Over the past five years, Stubblefield found a unique motivation in the competition that continues to push him to keep playing the trumpet.
"A lot of my motivation actually comes from this competition," Stubblefield said. "It's honestly extraordinary how much talent you find there as well as the guest artists who are literally the best in the world. When I hear them play live, all I can think is 'wow, one day, I want to be as good as them'."
Chasing after and focusing on this goal, Stubblefield spent weeks practicing to master a new piece to submit for this year's competition. Mother Sandy Stubblefield recognizes the difficulty of the piece.
"So he made the finals and it was really exciting," Mrs. Stubblefield said. "This year, he played a piece called the Tomasi and it is an extremely difficult piece. In fact, when we got to the competition, there were several people that commented to us saying that they were in college and they didn't even play that piece."
Despite the difficulty, Stubblefield practiced more and more, and his final performance was a clear reflection of his dedication.
"Christopher just loved it," Mrs. Stubblefield said. "He played it and it was just beautiful. When he finished, everyone was just yelling and screaming and cheering for him while I was yelling 'that's my son!' And we jumped up and ran around the stage door to wait for him to get off the stage. It was just a really fun experience. He has just always loved playing the trumpet. And when he was announced first place winner, I just nearly died."
Stubblefield's close friend and CHS senior Annabelle Kim recognized his humble attitude despite such an accomplishment.
"I'm super excited about him winning the competition and I definitely think he deserves it," Kim said. "He's so humble about it too so it's really nice to see that someone who works so hard finally got what he deserved."
Though his passion and hard work led him to win first place at this prestigious competition, the journey was not easy.
"He had a lot of setbacks coming into senior year," Kim said. "But he really took that experience and used it to change his whole perspective on music. He's been doing this competition for five years, but this year was definitely different because he learned that music is not about the competition or being the best, but it's doing what you love and being able to portray that to the audience. With that, he's excelled the entire year just because he's had this whole entire new outlook on music."
After about seven years of playing the trumpet, Stubblefield looks forward to a career in which he can continue pursuing his passion.
"I'm going to Southern Methodist University to study trumpet," Stubblefield said. "I'll actually be studying with two members of the Dallas Symphony Orchestra so I'm really excited to see how it will go."
Working with two members of the Dallas Symphony Orchestra allows Stubblefield to gain additional experience on a career he hopes to be a part of one day. Through his career, Stubblefield hopes to inspire more students to find a motivation like he did.
"It's different for every single person," Stubblefield said. "But if you can find what motivates you, you can achieve anything."
About the Photographer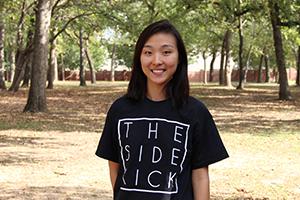 Ayoung Jo, Photographer
Ayoung is known to her friends and teachers by her nickname, JoJo. Though this is her first and last year of being on The Sidekick, she hopes to gain much...