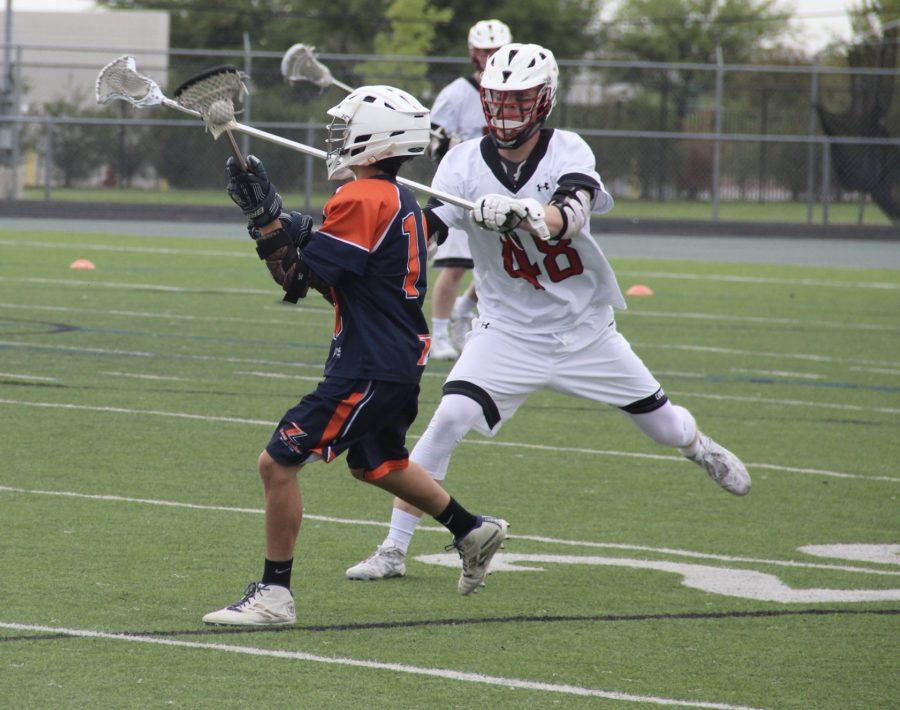 In the south, high school football is widely popular. Ask anyone who has seen NBC's "Friday Night Lights". Despite being named National Collegiate Athletic Association's fastest growing sport, lacrosse has yet to land a TV show, or even a substantial amount of credit at school.
As a non-profit, privately funded organization, rather than a University Interscholastic League (UIL) funded sport, the Coppell Lacrosse Association does not receive the same recognition as the football or basketball team.  
Unlike district-funded sports like football and baseball, teams that are allotted a class period to practice and utilize school facilities such as the fieldhouse and locker rooms, the high school lacrosse teams must practice outside of school and often find themselves competing with other sports such as soccer for field use and practice time. Lacrosse is not a UIL sport, leaving the teams to fund themselves and seek out practice space.
"It is tough for them because they do not get the financial support like other sports at the school," CLA communications director Diane Scalley said. "They do not have access to the different facilities at the school. They don't have a class period during the day to practice."
According to a user agreement with the city of Coppell, CLA teams are granted practice space at Coppell Middle School North and West. This agreement does not entail usage of Coppell High School facilities.
Although scheduling conflicts rise upon occasion, the CLA is prepared to work around it.
"We are thankful for the fields we do have access to," Coppell Lacrosse Association President Robin Barron said. "And although the way our user agreement is set up that Coppell ISD always has the priority, the city is always good about letting us know about conflicts ahead of time, and working with us."
Finding a place to play is not the greatest concern for the high school teams.
"Although playing at the school would be great, just being recognized and given credit every now and then would be greater," Barron said. "Our players are attending CHS and New [email protected] They are amazing kids, and most of them are multi-sport athletes. They are Red Jackets and honor society members, and they are doing an excellent job of balancing everything"
The occasional tweet from the CHS twitter account, a shoutout on the announcements and especially school spirit from their peers is what the CLA wants to see more of, due to the work the players put in.
Lacrosse players must commit more time, money and patience in order to play the sport they love. With this commitment has come a strong bond between the team.
"Without strong spirit and financial support from the school, the boys are forced to support one another more," Scalley said.
After four years with the former head coach Alex Poole, the boys team has gained a new head coach, Jeff Roberts, who has brought change to the program with a new coaching style. This transition has been smooth for both the team and Roberts, but the lack of access to school facilities has given Roberts difficulty adjusting, considering the 20 years he spent coaching on a collegiate level at Marquette University, Dartmouth College, Concordia University and the University of Vermont.
"It was a huge transition for me, because I am used to working in an athletic department, and being readily accessible to my players," Roberts said. "The only real interaction we have is at practice and games."
After taking into consideration the setbacks the lacrosse team faces on a regular basis, it becomes clear how strong and committed the players must be.
"I feel like because of all of the hardship we go through, it brings us together and forces us to bond more, for we have to work more just to play," senior goalie John Scalley said.
Fighting for field space and practice time has not weakened the team's bond and love for the craft. Depending on availability, practices and home games are held most often at Lesley field at Coppell Middle School West, and occasionally at Wagon Wheel Park.
After taking a loss on Friday, the boys lacrosse season has come to an end, finishing 2-7 in the district and 6-9 overall. The girls are district champions and the No. 2 team in the state.
"I don't think anyone one is really aware of how well the team is doing" CHS senior varsity attack and draw specialist Morgan Widner said. "I think maybe due to the fact we are not UIL no one really knows about us. Athletics is really boosted here, but since we aren't even allowed to play on Coppell High School's turf it is hard to get the same kind of attention."
The girls lacrosse team, coming off a second place finish at state last year, will compete for the state championship on May 7 at CSM North.
While district funded sports receive playoff send offs and T-shirt sales, the lacrosse team does not. According to CHS assistant principal Sean Bagley, CHS does not promote non-UIL sports unless the team, much like a club, has a sponsor at the school such as a teacher or coach. The girls lacrosse team does not have an official sponsor at the school.
"We are used to not being supported, but obviously we would still like the same kind of school spirit soccer received when they went to state," Widner said. "I feel like if any other sport was going to state the whole school would know."