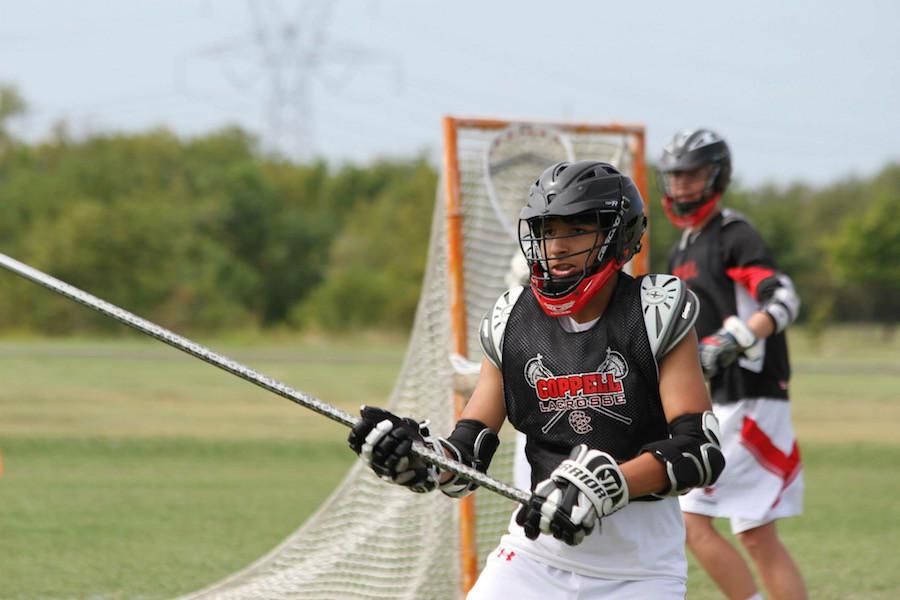 The Coppell Cowboys Lacrosse team (6-11, 2-6 Division I North) has not been having the season that it had hoped for thus far, however the Cowboys were looking to get back on track Tuesday night when they played host to the Episcopal School of Dallas Eagles.
After a strong first half, the Cowboys struggled in the second half only scoring two goals and fell to the ESD Eagles, 10-6, at Coppell Middle School West.
The Cowboys got out to a quick start on ESD, scoring three goals in three minutes to take the early lead. However, ESD quickly responded and tied the game at the end of the quarter. The Eagles then added two more goals in the second quarter and took a 6-4 lead at halftime.
The first quarter was very physical as two Cowboys were injured. Coppell went up early on ESD in the first, with goals from sophomore midfielder Reese Walker and junior midfielder Ben Goyne. However, ESD responded with goals from junior midfielder Nakeie Montgomery and sophomore midfielder Patrick Skalniak. At the end of the first quarter, the score was tied at 3.
"We came out with a lot intensity and energy because after losing our last game we knew we needed this one badly so we wanted to come out with a lot of intensity," Walker said.
ESD started the second quarter strong with a goals from Montgomery and senior midfielder  Asher Wabrek just one minute into the period. ESD continued to have success on offense with Skalniak scoring another goal early in the second. However the Cowboys responded with a goal from Senior Mason Lonborg and at halftime the score was 6-4, ESD leading.

The third quarter started off slow for both teams, with neither scoring in the first six minutes. The Cowboys finally broke through with sophomore Zach Bartolacci scoring a goal to bring them within one. The Cowboys then tied it up when Junior Spencer Haddock scored to make the score 6-6.
ESD responded with a late goal in the quarter and at the end of the third, the score was 7-6 ESD.
"We had a lot of confidence going into fourth and I think it was because if those two goals in the third because they got us going and we really thought we could win this game," sophomore attacker Zach Bartolacci.

ESD got out to a fast start in the final quarter, with Montgomery scoring another goal, his third of the game.
"We got out to a great start tonight but we have to finish better if we want to win our next game," senior midfielder Mason Lonborg said.
Next game info here:
Date: Wednesday, April 6th, 2016
Matchup: Coppell Cowboys vs. Allen Eagles
Location: Coppell Middle School West