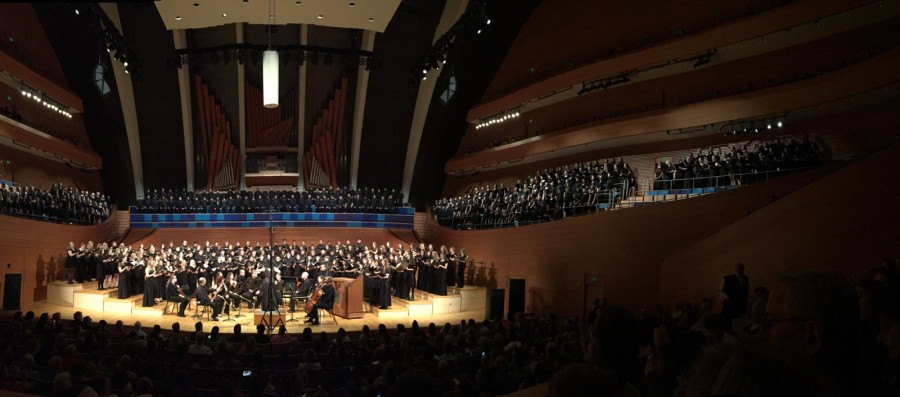 Coppell High School Choir students are spreading Coppell talent beyond the borders of Texas. This past week, several CHS choir students traveled to Kansas City, MO, to participate in the Southwestern American Choral Directors Association (SWACDA) conference. Sophomore Ashley Benhayoun provides more information about what it is like to participate and her experience.
What is SWACDA and how were you chosen to participate in it?
"SWACDA stands for Southwest American Choral Director's Association. It is not just an association that contains educators and schools from across the division, but is also a national conference that is held every other year that has auditioned ensembles that include a 11th-12th grade mixed choir, eighth-10th grade women's Honor Choir, eighth-10th grade men's Honor Choir, and a fifth-seventh grade Treble Honor Choir. One year there is ACDA, which is the American Director Choral Association conference which takes young talented individuals from across the United States. The next year there is the Divisional Conferences, in which there is the Southwest Division, Central Division, Eastern Division, North Central Division, Northwestern Division, Southern Division and Western Division. As for choosing participants for SWACDA, everyone who wanted to audition sent a recording of themselves singing the highest and lowest notes on their range in the song "My Country Tis of Thee", and singing a solo of their choice."
As a participant, what did you have to do?
"We went to clinics and practiced during the duration of March 8-11 in Kansas City. All participants stayed at the Marriott Kansas City Downtown Hotel,  and practices were held in the hotel ballrooms and Bartle Hall of the Kansas City Convention Center. As for the women's choir, the director was Dr. Lynn Gackle, who is the director of the Baylor University Bella Voce Choir."
What was the most exciting part of your trip?
"The most exciting part of the trip for me was exploring Kansas City. Even though the training and venue was amazing exploring downtown Kansas City, meeting friendly people, trying amazing food, walking in great weather and seeing historical architecture, made the trip worthwhile."
What was the most challenging part of your trip?
"The most challenging part of the trip was maintaining vocal health. With four long days of vocal practice, probably after the first day, people's voices started to become tired. The vocal chords are very sensitive, which means that the singer needs to constantly rest them and drink water. Now after the concert is over, my throat hurts really bad, but it was all worth it."
How would you describe your experience at SWACDA?
"My SWACDA experience was completely life changing. Working with other talented individuals and such a great director who spread knowledge and taught us how to truly appreciate music, was a blessing. As a national conference, we got to spend time in venues that we could have never imagined performing in, creating new memories and working with people we will most probably never see again. It was truly inspiring to spend the week with Dr. Gackle and watch her create something beautiful out of a group of young women that come from over five different states who don't know each other. After the concert ended, I was extremely happy. I will never forget performing in the Kauffman center, as it was extremely beautiful and had great acoustics."
How do you think this experience will help you as singer/choir student?
"Getting to work with Dr. Gackle at a national conference, I learned so much about musical technique, such as focusing sound into one point, lifting the soft palate and not pushing in the lower range. Along with vocal technique improvement, I have also learned how to share the importance and meaning of music with others, and I will take all of these principles and apply them to the choirs at CHS."
What's next for the SWACDA participants?
"Since next year will be ACDA, held in Minneapolis, all participants (except seniors) will get the opportunity to audition for the national honor choirs of 2017 by repeating the same process."