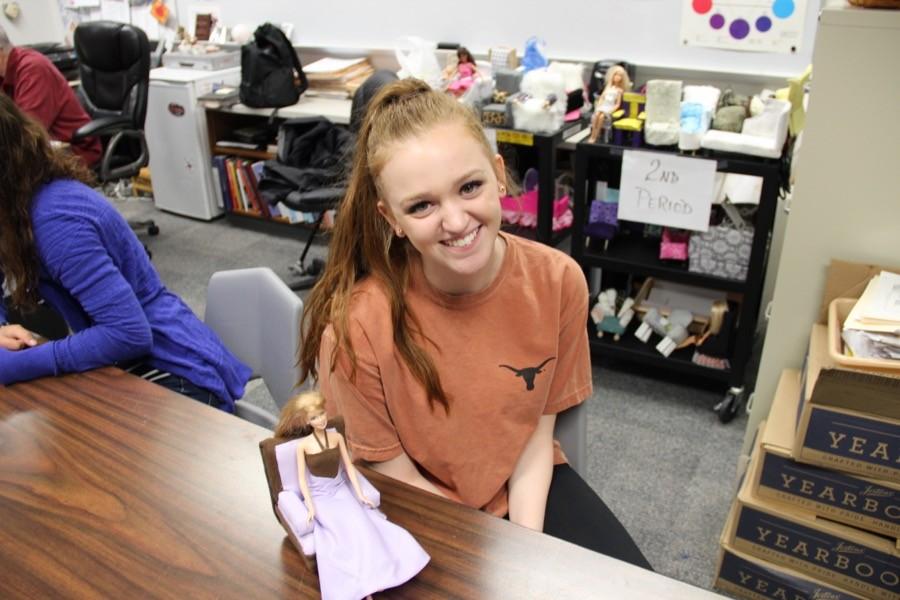 Dani Ianni
Stance confident, answers ready and smile eager, Coppell High School sophomore Sarah Wales entered the interview. She, along with peers from her interior design class, were applying for an internship at Barbara Mayo Interiors.
"The company designs rooms specialized for each client," Wales said. "My boss will meet with her clients and discuss what they want for their room and she will come up with ideas for them, pick out different furnishings, wallpapers and things like that."
After applications, interviews and meetings, Wales finally got the call she had been waiting for.
"I was so excited when I found out I got the internship," Wales said. "I felt like it was the perfect opportunity for me because I'm really interested in interior design and being able to experience the career first-hand is amazing."
Wales' schedule wasn't exactly empty before taking on this new responsibility. In addition to her internship, she also dances in the Living Arts dance company in Coppell, participates in Lariettes drill team before and during school, and keeps up with advanced academic classes.
"Throughout the past couple of years, I have learned how to manage my time very well," Wales said. "I don't waste any time. I am always doing something, but it is all worth it because I love everything I do."
Her mother agrees that Wales has developed a good sense of time management through her years of dance, school and social activities.
"So far she's been able to manage the workload fairly well," mother Renee Wales said. "It helps that she works on Fridays, a non-dance night and has the weekend for homework."
This year, Wales signed up for an interior design class at the high school. Through that class, she has learned many skills that have helped prepare her to be an intern. Most importantly, though, Wales has learned that interior design could be something she pursues in the future.
"I love interior design because it requires me to use my creativity," Wales said. "I have always loved to think outside of the box and create things. That's what I believe makes interior design special. It's all about your own ideas and applying different principles to create an appealing and flattering room."
In addition to helping Wales understand more about her own interests and strengths, it has also opened up a world of opportunity.
"One day in my interior design class, [Mrs. Becky Richards] brought up the chance to work for a lady she had met a couple of years back, [named Barb Mayo]," Wales said. "The way [Richards] described the internship made it sound like so much fun, so I [decided to apply]. A little bit after I applied, I got a call from Mrs. Mayo saying that she wanted to interview me for the internship. After that meeting, she offered me the job."
Although Wales' busy schedule left a large question mark on whether she would have time to help out, CHS interior design teacher Becky Richards was confident of her ability.
"Ms. Mayo came to me and said that she needed someone that was interested in interior design that could help her out in organizing her business," Richards said. "There were two main reasons [Wales was the best candidate for the internship]. One is that she does an excellent job in my class, and she definitely has the creativity and talent in the area. Another thing is that [Ms. Mayo] knew that [Wales] is a top-notch student, and my recommendation [helped]. I came to her with five or six top quality students, and Sarah was one of them. Everything she turns in is excellent. She asks good questions in class, and I think [Wales is] an inspiration to the other people."
The typical workday involves helping organize client books, looking through magazines for furniture ideas, organizing laptop files and helping with any other jobs that arise.
"Sarah [has helped me with] organization, creative input, space planning, client relations and information, digital design boards and the remodel of my personal office," Mayo said. "Sarah is someone I felt would give good professional appearance in representing my company, and she's someone eager to learn. We are both going to grow as I build all aspects of my design business."
As a whole, the internship has offered Wales the chance to learn about the occupation and use her creativity while working.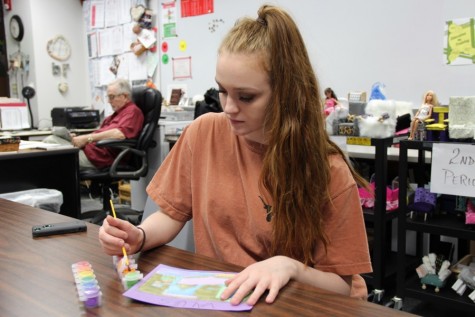 "I have always considered myself to be creative and this internship requires me to use it all the time, and I really enjoy learning about the industry and all the things that are encompassed by it," Wales said. "I love working for Mrs. Mayo because she is so kind and a joy to be around. I think I will take away some very important things that [Mayo] has learned during her schooling and creating her business that she will introduce to me while working."
Even though Wales has only worked at Barb Mayo Interiors for a short time, she has already learned a lot about the field of interior design.
"During the time that I have been there, I have already learned so much," Wales said. "Mrs. Mayo has been teaching me about Computer-Aided Design (CAD), a program used frequently in architecture and interior design, and the components that come together to create an interior design business."
Already, Wales' friends from her interior design class can see the impact the internship has had on her.
"She's always been such a mature person, and by doing this internship [I've] really seen Sarah start to blossom as an interior designer," CHS sophomore Amy Kitzman said. "She's beginning to take initiative and explore new concepts of interior design."
Other classmates have seen the effects of Wales' internship as well.
"I think the internship has helped Sarah apply the things we learn in class to real life," CHS sophomore Delaney Winkler said. "Since she started her internship, she has become more knowledgeable about interior design, which allows her to help the other students in the class when they have questions."
In addition to providing new experiences, more exposure to the elements of design and additional skills she can use in the future, the internship has had much to offer.
"Not only is she well deserving of this position, you can see that extra sense of self confidence in her that has been able to flow into other aspects of her life," Kitzman said. "It's just so great to see an amazing friend like Sarah be able to take on such a job, especially at such a young age. She has begun a journey that is going to take her to amazing heights."