Coppell routs Trinity behind four point night from Weathers
Already up 1-0, Coppell senior defenseman Madeline Guderian took the pass from her teammate and looked up at the goal. 30 yards out, she saw her chance and she took it.
A rifle of a kick later, the Cowgirls (15-6, 8-2 District 7-6A) went up 2-0 and never looked back, defeating Trinity (5-12-4, 2-7-1) with a final score of 7-0.
Throughout the whole game, Coppell absolutely dominated possession. The ball only crossed past midfield a few times in the first half, and even then it was just a desperation kick to clear the ball from the Lady Trojans.
After taking a 2-0 at half, the Cowgirls offense took off, lead by freshman forward Micayla Weathers. After a goal by junior defenseman Sarah Houchin, Weathers, dribbling down the sideline, took a circus spin and drilled a top-corner highlight reel shot to put the Cowgirls up 5-0 and earned her second goal of the night.
Weathers, with two goals and two assists on the night, credited her teammates on helping her.
"There was a lot of help from the team," Weather said. "I got into position and they helped me out and it just all fell into place."
Coppell kept its foot on the gas and topped it off with two goals from senior defenseman Emma Jett and freshman midfielder Nicole Henry as the Cowgirls eased into their 15th win on the season.
Coppell coach Ryan Dunlevy saw lots of good things from his team last night including a great team effort.
"There wasn't really a player to me that stuck out," Dunlevy said. "It was a great team win tonight. As a team we worked on a lot of different things throughout the week and then they executed those things tonight really well. Across the board, everyone put together a great performance."
Even though it was a blowout win for the Cowgirls, there were some things that his team needs to work on heading into the last two matches of the regular season.
"Our work in the midfield has to improve a little bit, we're still figuring that stuff out a little bit as we head into playoffs," Dunlevy said. "Our goal scoring opportunities have to also improve for these next few games."
With the Cowgirls holding second place in District 7-6A, they will most likely head to the playoffs. These last two matches of the season are important just like any other.
"We're trying to get everything perfect, it's as simple as that," Dunlevy said. "We have two more games to get ready for the games that really matter. Tonight's win should clinch second place for us regardless of these last two games but these next two games are our last two chances to get live pressure before the playoffs."

Hang on for a minute...we're trying to find some more stories you might like.
About the Writer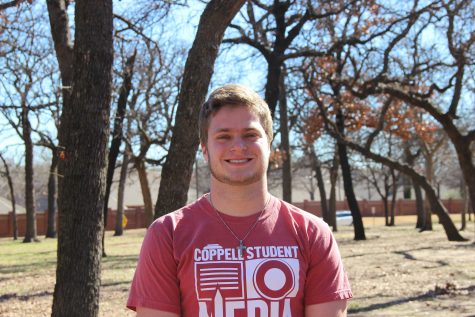 Joseph Krum, Executive Enterprise Editor
Joseph is the Executive Enterprise Editor on the Sidekick Newspaper and he also plays football for the high school. Joseph is a senior in high school...