Coppell's Lowery inducted into wrestling hall of fame
Individual accomplishments highlight wrestling season
On Feb. 20 the wrestling mats were rolled up and tucked away as the season officially came to a bittersweet close after the state wrestling tournament. The season was full of highs and lows, with girls finishing second in the region and boys taking another district championship title.
Surprising to Coppell head coach Chip Lowery, the sophomores and freshman on girls and boys teams really stood out in terms of skill. Sophomore Joe Montelegre was the boy to beat throughout the season, finishing first in multiple tournaments and took the title of District 7-6A Champion. However, he suffered an appendicitis the week of regionals that kept him from competing.
"There were people there who I've wrestled and beaten and they advanced to state, which was sort of sad to see," Montelegre said. "I'm ready for next season because of this setback so I'll just train harder throughout the summer and hopefully I'll be ready in time for next year."
The hardworking mentality of Montelegre and many other wrestlers often goes unnoticed as other sports hog the Coppell sports spotlight. Not eating or even drinking to keep up with weight, before and after school practices everyday during season and grueling workouts to stay with weight classes.
"Young kids, ninth and tenth graders really stepped up," Lowery said. "A lot of success in those groups, I was impressed to see their hard work."
This past year was a great year for Lowery personally as well. Lowery was recently inducted into the National Wrestling Hall of Fame.
"I don't look for awards or anything, but to be picked by that group it's a big deal because it represents my time here," Lowery said. "My whole time in Texas has been in Coppell. It shows where I've got to work with and the kids, it's made it a really good time."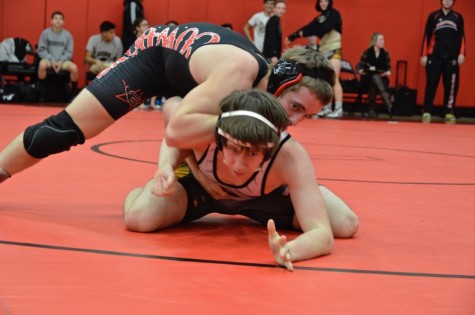 Thirteen years of coaching and experience obviously had a lasting impact, not only on the program but the athletes Lowery has trained.
"Coach Lowery really is an amazing coach and seriously earned that award," Montelegre said. "It also means a lot to be coached by him because he's such a great coach and person overall."
Senior Ko'a Moe ended her wrestling career on a high, despite the shoulder she injured at state. Ending her season with 36-4 record, the perseverance and discipline Moe has learned will stay with her as she leaves Coppell next year.
"It's really weird now that it's over because I put so much time into it over the past four years [so] to have to just end like this, I'm not ready for it to be over," Moe said. "It's really cool that Coach Lowery got into the Hall of Fame. All of the coaches are great and I've been blessed to be able to wrestle for them."
The new momentum the team will receive from this year's freshman and sophomores will hopefully give the program a boost next year and the coaching staff is already looking forward to next season.
"We need to finish," Lowery said. "We had a lot of wrestlers make it to state but none of them placed. Either way, we have a lot of talent and it will be exciting to see what we can do next year."