Scholastic Journalism Week: A day in the life of a journalist (with video)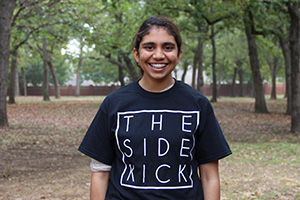 More stories from Pranathi Chitta
From writing to drawing, you can find anything in the newsroom. I have chosen this story to write this week, specifically, since it is Scholastic Journalism Week. I decided to shadow a couple student journalists this week as it is also the week the March issue of The Sidekick will come out.
As Adobe Illustrator is her most used application on her computer, Coppell High School senior graphics editor/webmaster Manu Garikipati constantly makes graphics to accompany stories.
For Garikipati, this week means more than just journalism appreciation.
"I really get to show my appreciation to those who help me out and make it possible to do what I love," Garikipati said.
Although creating a graphic to precise standards can be meticulous, Garikipati managed to learn the specifics through practice for the past year and a half of being on The Sidekick.
From design editor to the most important position on The Sidekick within three months, CHS senior and editor-in-chief Rachel Buigas-Lopez manages to adjust well.
"It is a lot more responsibility and nothing you can prepare for or expect," Buigas-Lopez said. "I've learned a lot about being the leader I can be."
This week is special for Buigas-Lopez as it is a chance where she can finally have the chance to showcase her talents.
"We tend to cover a lot of different events in our school, but this is a time when we can appreciate ourselves," Buigas-Lopez said.
Click click.
This is the norm of what photographers hear. However, CHS senior managing editor Mallorie Munoz is not your typical photographer. From photography to writing, Munoz is truly the all rounded journalist, which is emphasized by her editorial leadership.
"I like to think I'm Rory Gilmore," Munoz said. "I feel like [being editor] has made me feel more committed to the newspaper. Although it's not like being editor on The New York Times, I know what it feels like to be in an editorial leadership in a newsroom."
This week allows Munoz to remember times where she has struggled yet she has managed to make it worth it in the end.
"
I love and hate the stress at the same time."
— Mallorie Munoz, Managing Editor
"This week is important since about this time last year, I realized this was want I wanted to do- I want do this," Munoz said. "I love and hate the stress at the same time. I actually want to be a writer in the future. I either want to be a political journalist or an editorial writer."
This is a special week for all journalists as it is one of the special times where we can be recognized specifically for what we have achieved this year.
About the Contributor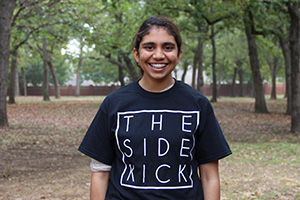 Pranathi Chitta, Staff Writer
Pranathi Chitta is a third year staff writer on The Sidekick and a senior this year. This fall Pranathi hopes to attend college in Texas. Other than...