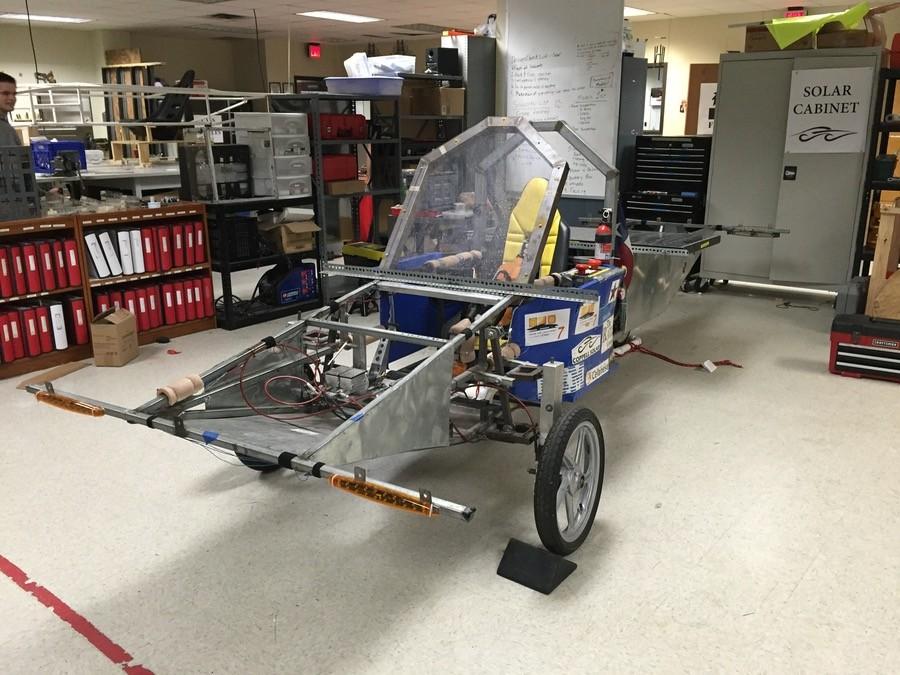 Ale Ceniceros
Students' plans for next Monday probably include sleeping in, watching Netflix or hanging out with friends. For members of Coppell High School's Solar Car Team, however, the day will start early.
The students are giving marketing presentations to several major companies to seek sponsors for a new car. But teenagers convincing adults to invest large amounts of money can be a challenge if they are unprepared.
"Students must be knowledgeable about their blueprints, be able to answer any questions and be professional while presenting," STEM teacher and team coordinator Mike Yakubovsky said.
The team last built a car in 2010, titled Aurora, and has been building upon it since then. Club members plan to create a new car that surpasses the former in several ways, including speed.
"We want to aim for a 35 mile per hour average, which would put us at an increase over the team that won last year," CHS senior and Solar Car Club president Stephen Kerpon said.
To reach this goal, the car must be under 600 pounds. While this seems challenging, the car's design should make it possible. The new car, named Outlaw, will be made of chromoly steel. While this material is not lighter than what they previously used, less of it has to be used in building the car.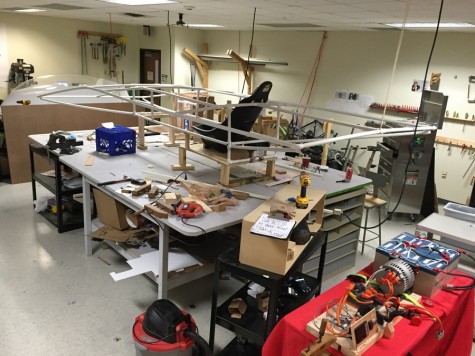 "[Using chromoly] is going to take us from the car right now, which ways about 1100 pounds, to this one," Kerpon said. "The [change in material] itself should make us go a lot faster."
Other upgrades include a more efficient motor, more effective solar cells and new batteries. If everything goes according to plan, the CHS Solar Car Team should be successful. The only problem is the approaching deadline: the car must be finished before July 18, the day the 2016 Solar Car Challenge begins. Besides that, the car must have at least 10,000 miles on it before they enter, mostly to ensure that the car is safe and will withstand the race.
"The average team takes about a year-and-a-half to two years to build a car, and we're trying to do it in nine months," Kerpon said.
Making the time frame is not going to be easy, but the team is determined to get it done. If they can complete the car in time, club members will be driving the vehicle from Texas Motor Speedway to Minneapolis over the course of the six day race.
"In the race, anyone with a license can drive [the solar car]," Kerpon said. "If we're here, we'll generally let anyone drive it, but just around the parking lot. We have two driving sessions [during the race]: one in the morning and one in the afternoon, and usually we switch [drivers]."
If not finished in time, the car will not be able to compete until the 2017 competition. But whether or not they get to compete this year, Solar Car is still a huge part of team members' lives, providing them with tools they can use later in life.
"Having the opportunity to build a solar-powered car isn't something that many schools offer their students," CHS sophomore and first year club member Pooja Chivukula said. "I've always been interested in how cars work and to be able to build a car is an unimaginable opportunity for students."
Other team members feel similarly, excited for the opportunity to apply the skills they have learned to the real world.
"I love that it's actually a real life experience," Kerpon said. "You get to put what you learn in class to practice. So we get to learn about building things, designing them- then we actually get to do it."