Teffeteller, Houchin lead Cowgirls to a landslide win over Richland
As the temperature was dropping and stands were filling with people of all ages, the Coppell Cowgirls were warming up for what would be a 8-0 win, defeating the Richland Rebels with flying colors.
The Cowgirls kicked off the match with an immediate goal from junior Maddie Weber, setting the Cowgirls up with a positive mindset throughout rest of the game. With approximately 29 minutes left in the first half, junior Tori Teffeteller follows Weber's lead and scores the second goal of the night. After two more goals were scored by juniors Baylee Hux and Sarah Houchin, Teffeteller secures another goal for the Cowgirls, ending the first half with a score of 6-0.
With 29:45 left in the second half, the Rebels attempted to steal the ball from junior Sarah Houchin, but did not prevail as Houchin dodged the attack and continued down the field, scoring the Cowgirls' seventh goal with astonishing speed. As the number of goals increased, so did the Cowgirls' spirit and intensity. Right after a corner kick from senior Emma Jett, senior Maddie Speanburg fires the final shot of the night, earning the Cowgirls' eighth goal of the game.
The constant high defensive pressure and intense offensive plays from the Cowgirls proved to be too much for Richland to handle as they did not get a single ball into the goal.
"We played really well and we finished a lot of opportunities, which is a good, positive thing for us. Some of the things we really struggled with in the past seemed to improve today. We set our minds to our goals and we executed," Coppell coach Ryan Dunlevy said.
Even though the Cowgirls did not let in a single shot from the Rebels, there is always room for improvement.
"In the midfield, we especially need to clean up our touches a little bit," Dunlevy said. "Keeping a focused mind is a growing thing, and the girls did a great job with staying focused on the things we needed to work on. They continue to get better even though the score got a little high."
"We communicated really well as a team, and with that communication we were able to switch the point of attack a lot more. Also, we were able to score a lot more goals and call people off," junior Baylee Hux said. "Even when you get so far ahead, you have got to think it's still 0-0, and I think that's what we did the entire game. We all kept thinking that we have got to play with everything we have."

Hang on for a minute...we're trying to find some more stories you might like.
About the Writer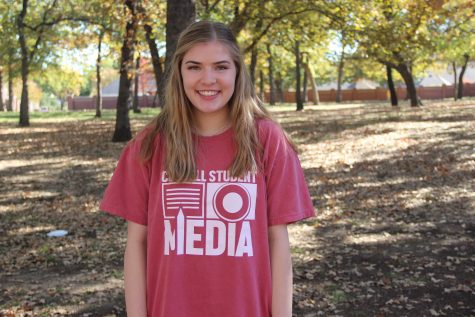 Amanda Hair, Sports Photography Editor
Amanda Hair is a senior at Coppell High School, this being her final year on The Sidekick and her first year as the Sports Photography Editor. She is also...