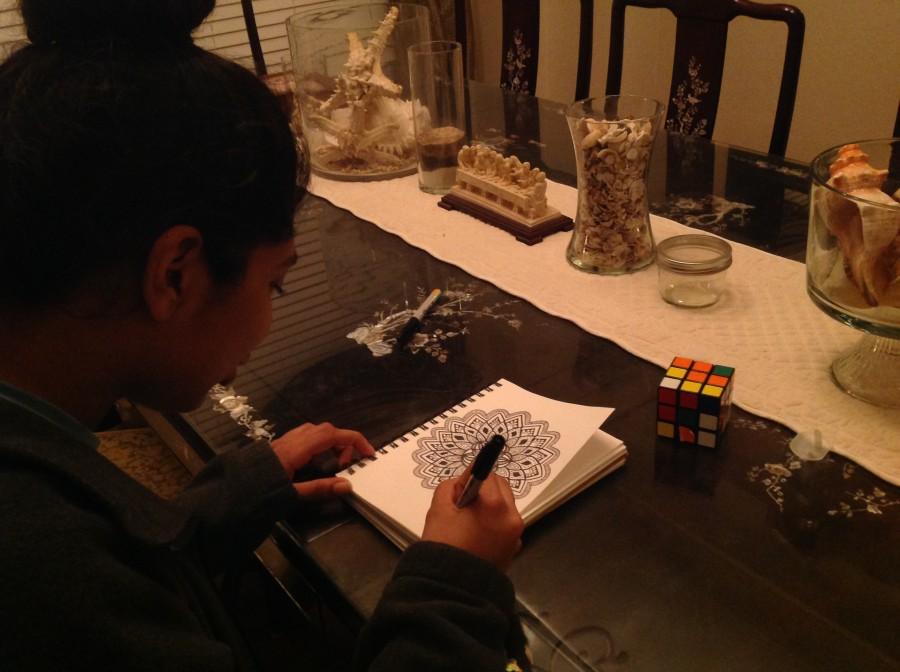 Coppell High School freshman Lucilla Veliyathumally has been drawing ever since she could pick up a crayon. Recently, however, Veliyathumally's main focus has shifted to creating zentangle, which are repeating patterns that form beautiful images. She first began learning how to draw zentangle during Winter Break of her eighth grade year, and since has dedicated both an Instagram and an Etsy account to the complex artwork.
What's your favorite part of drawing?
I like to come up with the idea. I love the feeling that I get if I come up with an idea that totally inspires and excites me. If I'm inspired and passionate about the idea of the drawing, I will be excited to do the drawing.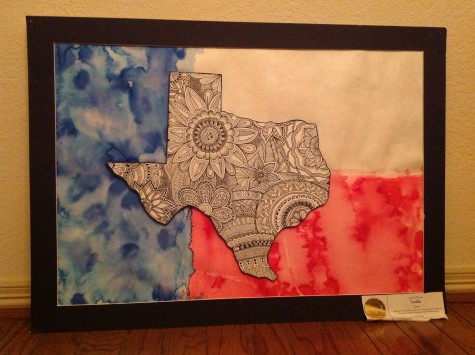 How many years of art have you taken?
I took art in sixth grade and then again in eighth grade, but eighth grade was 3D art. I wanted to take art this year but I didn't have room in my schedule. I want to take it next year and compete in Visual Arts Scholastic Event (VASE). I competed in junior VASE in eighth grade with two pieces and both of them medaled. One of them got a silver medal (the highest you can go for junior VASE). I'm already excited to compete next year because in VASE you can go on to national level and compete for scholarships. I'm really hoping if I keep practicing I can produce a piece that qualifies for that level.
In the future, do you see art more as being a hobby or as part of a career?
I plan to continue art as more of a career but also mixed in with a business aspect. Artists alone don't make much money, like many [occupations] in the design world. I'm interested in textile design. I want to put my patterns and designs on things and market them so that people will buy them. Ideally, my dream is to have a lifestyle brand like Kate Spade, Tory Burch or Anthropologie, but becoming an amazing designer like that is extremely difficult so I'm going to start small and work my way up.  
Who is your role model in the art community?
I don't really have one. There are a couple artists I follow on Instagram that have amazing work, and I aspire to one day be able to produce the same quality or better.
If you could meet one artist, past or present, who would you choose?
I would choose Wassily Kandinsky because he was one of the first abstract painters of his time. I would want to make a painting with him so he could teach me how he did it. I would want him to teach me what he knows because knowledge is power. Plus I would like to expand my horizon and try different forms of art to give myself diversity.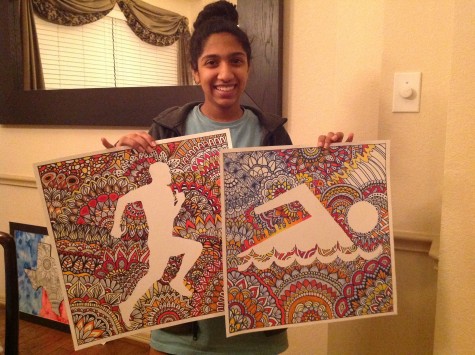 How long does each drawing take you (on average)?
It depends on the size of the piece. Usually an 8×12 takes one to two hours depending on the amount of detail. The 11×17 usually takes three to four hours, but it can vary. And the 18×24 is usually 10 or more hours. All of the times can vary depending on the size, detail and complexly of the piece.

What has been the most challenging thing you've drawn?
I think it would have to be the 18×24 sunset I did over the summer. I think this challenged me so much because of the amount of time and effort it took to complete it. The piece took me around 15 to 20 hours to complete. It's full color and almost every inch of it is covered in zentangle.
You've started your own Etsy account – what are your plans for this?
I started this account to get people interested in my art and buy it. I plan to start marketing my designs and put them on products so the products would be more appealing to the consumer. I would love to print my designs on phone cases, key chains, lamp shades, fabrics/blankets, pillows and create a whole home décor line with my designs. I want to put my patterns on anything [I can]. I'm going for more of a textiles look but I'm also interested in maybe even clothes and bags. I'm interested in any way I can get my designs out to the world.