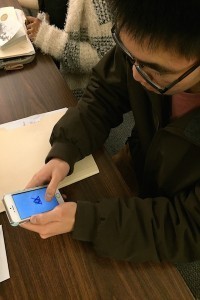 Jennifer Su
Students – Start your new semester off on the right hand, and get organized with the "Everest" app.
The new semester is an opportunity to start fresh in the pursuit of a goal. January may have been a month to settle into the new year, but February can be the month of success and victory with "Everest."
This app is a personal calendar that allows you to create goals and sends you notifications when the date to achieve that goal starts approaching. You must create a profile but the required profile can be merged with your Facebook account, Google Calendar, Meetup and Outlook. This is a innovative calendar that allows you to keep up the fast paced society we live in today.
"Everest" proved to be very useful especially during the finals week.
"The days I used this app, I finished my studying much quicker and I was much more efficient." said Coppell junior Eunice Choe.
This easy to navigate app begins by asking you to create an account and confirming your email. After that, you can now begin creating g
oals and tasks to be accomplished during the same day, week or month.
With the additive of accounts, goals can be "shared" and accomplished with multiple participants. This way there will be a greater incentive to finish the goal when others are along with you.
With this new app, students will be able to organize their plans more efficiently, and without procrastination.