Pumpkin snickerdoodles to spice up the season (with video)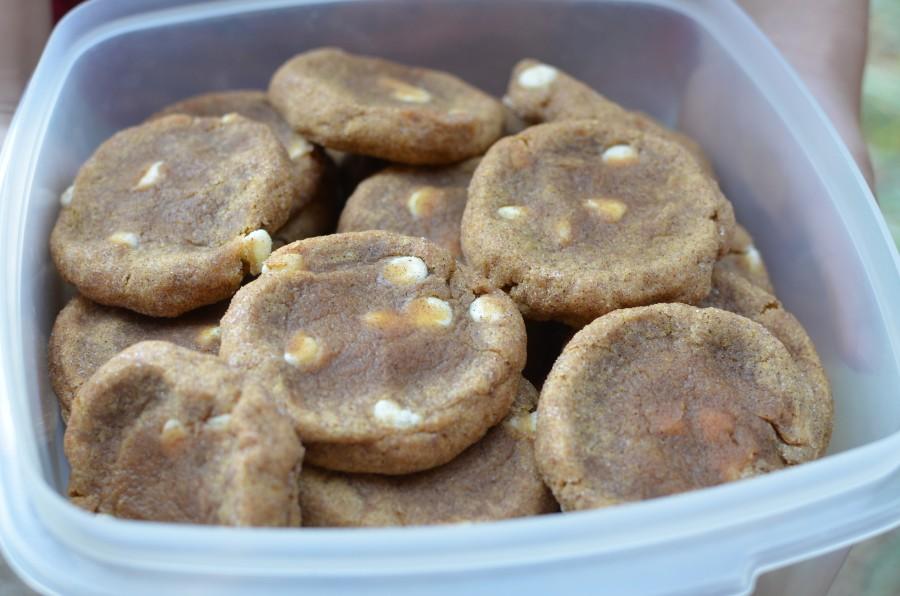 By Maggie Theel
Staff writer
@magggggiee
With the cold weather emerging, so are some of my favorite flavors. I love all things vanilla, cinnamon and pumpkin; so when I signed up to bring cookies to a Thanksgiving potluck, I decided to test out White Chocolate Chip Pumpkin Snickerdoodles.
I found several recipes online for pumpkin snickerdoodles. The following is a composition of the best ones I found along with some of my own tips and tricks.
These cookies are soft and chewy with a good amount of spice. To make sure the cookies are nice and gooey, be careful not to add too much flour or over bake them.
They do not have eggs in them, which allows them to be incredibly soft and not at all crumbly like most pumpkin-based baked goods. The lack of eggs also allows unlimited taste tests of the cookie dough.
My recipe calls for a little more cinnamon, vanilla extract and pumpkin pie spice than other online recipes because, as I have mentioned, I love these flavors, especially at this time of year. However, feel free to scale back the spice if it is too strong for you.
This recipe is delicious, simple and quick, but if you do not have an entire night to dedicate to baking, try making the dough, refrigerating it overnight and baking the cookies the next day. The dough will stay fresh for up to three days in a sealed container in the refrigerator or up to three months in a freezer.
One batch makes 18 cookies, they will disappear quickly so making a double batch might be necessary. Please note, in the videos below I am making a double batch so I am using twice the amount of each ingredient.
Ingredients:
½ cup butter
¼ cup packed brown sugar
½ cup granulated sugar (with an extra ¼ cup for rolling the dough in)
1 teaspoon vanilla extract
6 tablespoons pumpkin puree
1 ½ cups all-purpose flour
¼ teaspoon salt
¼ teaspoon baking powder
¼ teaspoon baking soda
2 teaspoons ground cinnamon (with an extra ½ teaspoon for rolling the dough in)
1 ½ teaspoon pumpkin pie spice
½ cup white chocolate chips
Instructions:
Step 1: Melt the butter in the microwave and then in a medium bowl, whisk the melted butter, brown sugar, and granulated sugar together until there are no lumps of brown sugar.
[KGVID]https://www.coppellstudentmedia.com/wp-content/uploads/2015/11/Step1Maggie.mov[/KGVID]
Step 2: Add in the vanilla and pumpkin; whisk until smooth.
[KGVID]https://www.coppellstudentmedia.com/wp-content/uploads/2015/11/Step2Maggie.mov[/KGVID]
Step 3: In a large bowl, mix together the flour, salt, baking powder, baking soda, cinnamon and pumpkin pie spice. Add the wet ingredients to the dry ingredients and stir with a large spoon or rubber spatula.
[KGVID]https://www.coppellstudentmedia.com/wp-content/uploads/2015/11/Step3Maggie.mov[/KGVID]
Step 4: Mix the wet and dry ingredients until a smooth dough forms.
[KGVID]https://www.coppellstudentmedia.com/wp-content/uploads/2015/11/Step4Maggie.mov[/KGVID]
Step 5: Fold in the white chocolate chips, make sure they are evenly dispersed throughout the dough. Then, cover the dough and chill it for at least 30 minutes.
[KGVID]https://www.coppellstudentmedia.com/wp-content/uploads/2015/11/Step5Maggie.mov[/KGVID]
Step 6: Take the dough out of the refrigerator. Preheat the oven to 350°F and line two large baking sheets with parchment paper. Roll the dough into balls (each ball should be about 1 ½ tablespoons). Mix together the extra ¼ cup of granulated sugar and the ½ teaspoon of ground cinnamon and roll the dough balls in the mixture, completely covering them, before arranging them on the baking sheets. Slightly flatten the cookie, otherwise they will not spread out in the oven.
Step 7: Put the cookies in the oven and bake for 10 min. The cookies should look soft when you remove them from the oven. Allow the cookies to cool for at least 10 min on the baking sheets before moving them to a wire rack and letting them cool for about an hour. Enjoy!