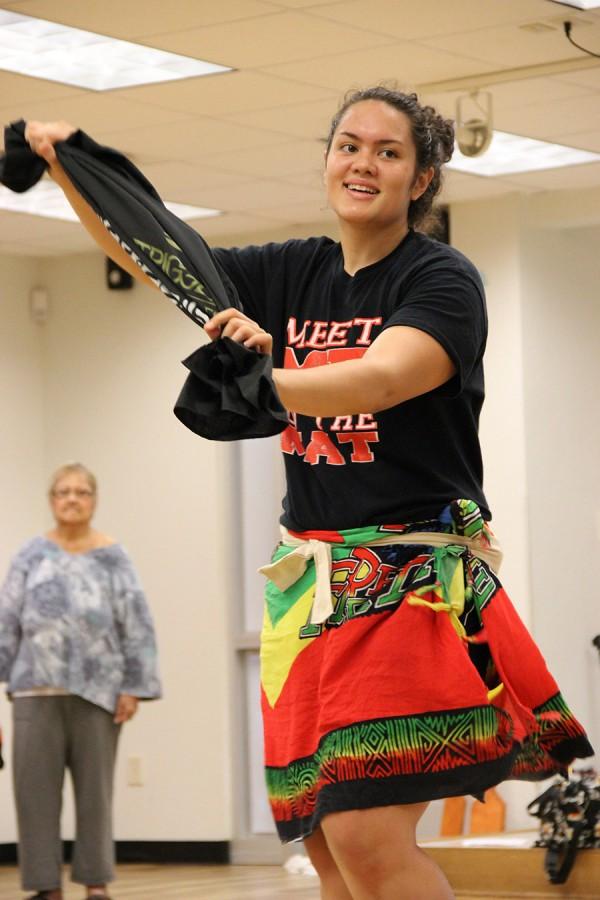 By Amy Roh
Student Life Editor
@rohmyboat
As the sounds of drums and guitar echo off the walls, Coppell High School senior Ko'a Moe dances to the beat in her flower-adorned skirt. Her ankle tattoo of arrowheads, the traditional malu symbol, and hibiscus flashes underneath the colorful fabric.
"Whakarongo ki ke tangi ote koremakoe ki te tangi au mere i kurangi ki runga i te ru ote waka taki timu," the makeshift band sings the traditional Maori song.
Moe, who is Samoan, is a hula dancer. Ever since she was 6, Moe has been familiar with Polynesian dance, and now dances regularly for reasons both cultural and personal.
Moe first began dancing because of her mother who wanted to instill cultural customs in her children. But after moving from Washington and other various states, the family found it difficult to stay in touch with its cultural roots due to the small Polynesian demographic.
"I wanted them to get back into their culture because in Coppell there's no Polynesian culture, other than what I give now, but that's not enough," Koa's mother Moa Moe said. "They used to dance when they were little but as they grew older, they got away from it when we were living in places that had no cultural influence."
Pacific Islanders make up 0.2 percent of the U.S. population, which makes it the lowest demographic in the country. Finding cultural communities is a difficult feat in itself.
However, the family found a Polynesian dance group based in Euless called A Touch of Paradise when they performed at oldest brother Roger Moe's graduation. As if it were fate, Mrs. Moe recognized that one of them in the group was an old friend.
"I found this group and it just so happened to be with someone I knew from years ago," Mrs. Moe said. "I really want them to get involved with this group and they told me about [A Touch of Paradise]. So it's been about a year now since then."
Moe then began practicing with A Touch of Paradise, opening a whole new set of challenges.
"When I started back up after taking so many years off, I really struggled with the Tahitian because my hips didn't quite get the movement but it's one of those things where when you get it, you have it," Moe said. "You just have to make it go faster or slower and control it better."
Moe has been dancing officially with Touch of Paradise for a year, and has performed in various locations. Notably, at the Texas State Fair last year, which was a pinnacle in her dancing performance. Not only was it meaningful in scale, but also another way to spread Polynesian culture.
"It was cool because I've never actually performed in such an open area where people could just walk by and be like, 'Oh! Hula dancing, that's cool!', because Texas doesn't really have that," Moe said. "At the end they have the last man's dance where you could go pick a person from the audience and dance with them, and that was cool because you had no idea who any of these people were and were probably never going to see them again."
Moe also performs with her younger brother KK Moe, who became involved with it about the same time as Moe.   
"I wanted to do it because my [older] brother did it for his graduation and I was like, '[Wow] I really want to do that,'" KK said. "It's cool because [other performers] are brother and sisters too, so it's like family here."
Many might assume that Polynesian dancing is simply "doing the hula", similar to the dancing portrayed in popular media. However, there is much more to the dances than just a simple shake of the hips.
"You always have to stay bent and you have to move your knees for your hips to actually move," Moe said. "You also have to keep your upper body relaxed and it's just your hips that are moving."
Not only that, but there are unique versions according to certain Polynesian countries.
Under the umbrella of Polynesian dance, there is Tongan, Tahitian, Maori, Hawaiian and Samoan.
"Tahitian is more of the grass skirts and shaking of the hips," Moe said. "That's the one that has all of the hip movement and is very mechanical. With Hawaiian dancing, you're telling a story. I think it's prettier. It's slow and drags on. Then there's Samoan dancing, which is the sasa [for girls], and a slap dance[ for boys]. The guys do the haka, and that's like a Maori warrior dance."
Although hula dancing is a normal activity for Moe, it is is rare to see practice between regular American students. When CHS senior and close friend Thomas Du found out, he was surprised to say the least.
"I [said], 'Dude, that's really cool,' and I asked her to show me," Du said. "I tried it myself and totally failed. Apparently you're supposed to keep your feet together and shake your hips. You have to be so flexible, it's ridiculous."
Moe often performs during luaus, special events and even graduations, all of which require hours of hard practice. Add on schoolwork, wrestling and acapella – juggling them all can become stressful.
"It's annoying being so sore from wrestling and then I'm in here and they're telling me to bend my knees lower and have my arms straighter," Moe said. "Once [wrestling season] starts, it gets a little hectic but I try to do this so I don't lose it.
However, the importance of staying rooted in her heritage has kept Moe from giving up.
"I like that it's a cultural thing, because I think a lot of places, especially Hawaii, is losing its culture but because of hula dancing and luaus, [it's] helping it keep its culture," Moe said. "It's cool because I'm Samoan so I know the dance of my people. it's more for the cultural aspect, for sure."
Hula dancing has also helped to develop other parts of Moe's life that go beyond cultural identity.
"Dancing is always advantageous and beneficial to the student in terms of growth, self awareness, confidence and socializing," A Touch of Paradise dance instructor Fran Galeai said. "In these areas I have seen [Moe] grow.  
There is still so much to learn about the Polynesian dance, and performing it is possibly the best way to spread this knowledge, both for Moe, and fellow performers.
"We do all of the dances instead of just hula, because there's more to the Polynesian dance than just hula," fellow dancer Amalani Latu said. "I love how we get our audience to see that. With technology, culture's kind of going away but we still keep the traditions alive."