Con: Confederate Flag; Displaying the Confederate Flag is a leap backward for mankind
Hang on for a minute...we're trying to find some more stories you might like.
Sakshi Venkatraman
News Editor
@oompapa1
We are living in an extremely dynamic time period. This past summer alone, gay men and women were given the right to wed. Now, we are standing in the wake of possibly the first female president in our nation's history, just after completing two terms with the first black president.
The Confederate flag goes against everything that the United States of America stands to  represent. Freedom, unity, diversity, equality, security. So much so that flying it alongside the American flag almost makes both symbols appear meaningless.
America is finally starting to overcome the bitter oppression that characterized much of its history. But on the issue of the Confederate flag, many refuse to let go. The most common theme I have heard from people who support the flag's display is that it is a symbol of "Southern culture and history." Particularly, that removing it would be equivalent to "erasing history."
To clarify, the removal of the flag from public property and government buildings is not a measure to erase the Confederacy from our history, it is simply a measure to contain it there, where it belongs.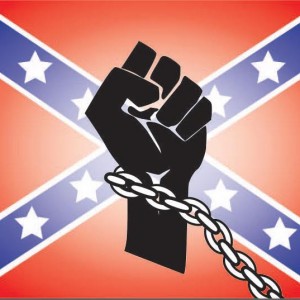 The fact that history must be learned from is unarguable. However, there is a difference between appreciating something as a part of history to be preserved and learned from and appreciating something as a symbol of existing "culture".
Slavery happened; in its history, millions of African men, women and children died, millions more suffered. There was a Civil War; hundreds of thousands died, hundreds of thousands more suffered. That facet of our history has long since passed. It happened, and we will never forget, but it is over.
Now, in this dynamic time period, as the descendants of the men and women who were once in chains shake the last of their shackles, we decide to cling to one of the instruments of their oppression like a child to a blanket?
It seems like a leap backwards for mankind.
Although the flag holds no direct "threat" to our nation, it does threaten the unity and the feeling of security among the American people. It encourages the prominence of sectionalism- holding the ideals of a particular area (the South) over the values and ideals of the nation as a whole.
Why parade around a history we have spent hundreds of years trying to overcome?
Yes, there are some people who genuinely do not have malicious intentions in displaying the flag, however, America does not have the same demographics as it did in the 1850s. The white majority America has kept for most of its history is beginning to decline. We are becoming more diverse.
Maybe the flag does not represent oppression for Caucasian people but it does for many others. Millions of people who live in America today and are accepted today would not have been during that period in history. With diversity increasing everyday, a symbol of hatred towards people of color should not be displayed on public or government property.
Also, many racist people also hide behind the "culture" in the Confederate flag to justify their underlying racial intentions.
Indeed, flying a flag, burning a cross or screaming "Heil Hitler," whether for the "preservation of culture" or not, falls under the constitutional right to freedom of speech.
If someone wanted to tattoo the Confederate flag onto their forehead, it would not be my place to tell them not to. All I am saying is that the flag needs to be removed from government buildings and public institutions.
We must stop to ask ourselves who we want to be and what we want to represent, as individuals and as a nation.