Prom on the horizon with new location, day
By Shannon Morgan
Staff Writer
@shannonlacyy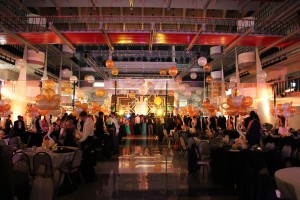 Coppell High School is expanding its horizons for its annual prom by changing the day and location, and seniors are a little unsure on how everything is going to play out.
The new day for prom, April 10, is a Friday. Usually held on a Saturday, this will be the first time ever for CHS to have their prom on a weekday.
Just as well, the new location is Southfork Ranch, which is right outside of Plano. Prom in years past has been held at the Dallas Market Hall in downtown Dallas. Even though prom is on a ranch, this year's prom theme is 'Safari Sunset', a theme that CHS has never used before.
"I think that [the theme] is something that might not be easy to relate to, but it will have cool decorations," senior Gabi Siewczynski said. "Overall I think it's an alright theme."
Since CHS's prom has never been done in this way, seniors do not know what to expect and have no prior knowledge of whether a prom like this has worked or not.
Among other qualms from the seniors, there poses a potential problem: the varsity tennis team and the varsity baseball team will both be competing in games the night of prom. This may either delay them from going to the dance, or prevent them from going all together.
For girls,or guys, that are worried there will not be enough time to get ready, the school has approved seniors to leave after their third period class. This will not count as an absence against seniors and ruin their chances of final exam exemptions, if eligible.
While this is very beneficial for the seniors, another issue arises: underclassmen that will be attending prom with a senior have not been approved to leave school after third period.
If underclassmen want to leave early they can, but this will count as an absence against them and possibly jeopardize their final exam exemptions at the end of the year.
Andrea Morlett, a junior attending the prom with a senior, knows getting ready that day is going to be a challenge.
"It bothers me [not being able to leave early] because they only set up a system for seniors to leave; they can sign in and be excused, but for me I know that if I skip school to get ready I'm going to be counted absent and they could hurt me for exemptions," Morlett said. "I'm pretty sure that if I come all school day and then leave I'm going to have maybe an hour to get ready compared to girls who have a full day to get ready. I just don't think it's fair."
Seeing how most prom festivities begin as early as 5 p.m., students may find it very stressful to get hair and makeup done and then arrive on time to take pictures and go to dinner before the dance, which starts at 8:30 p.m. Numerous prom groups may opt to take their time with photos and dinner and arrive at the dance after it begins.
For those that have not purchased their prom tickets yet they are still available during all school lunches for $105 each. Students that are bringing a date from outside of CHS must fill out a form for their date, which can be done in the Student Services office.