Master of the golf course: Owning numerous awards, only state title escapes Lee's grasp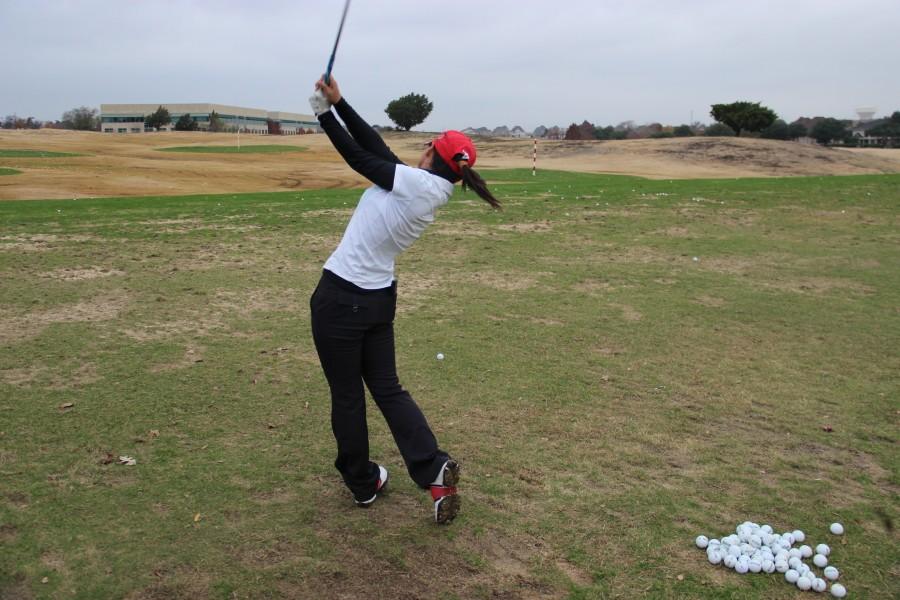 By Alex Nicoll
Editor-in-Chief
@NicollMac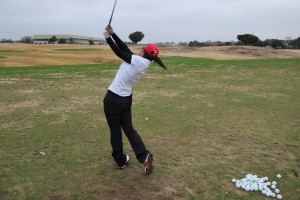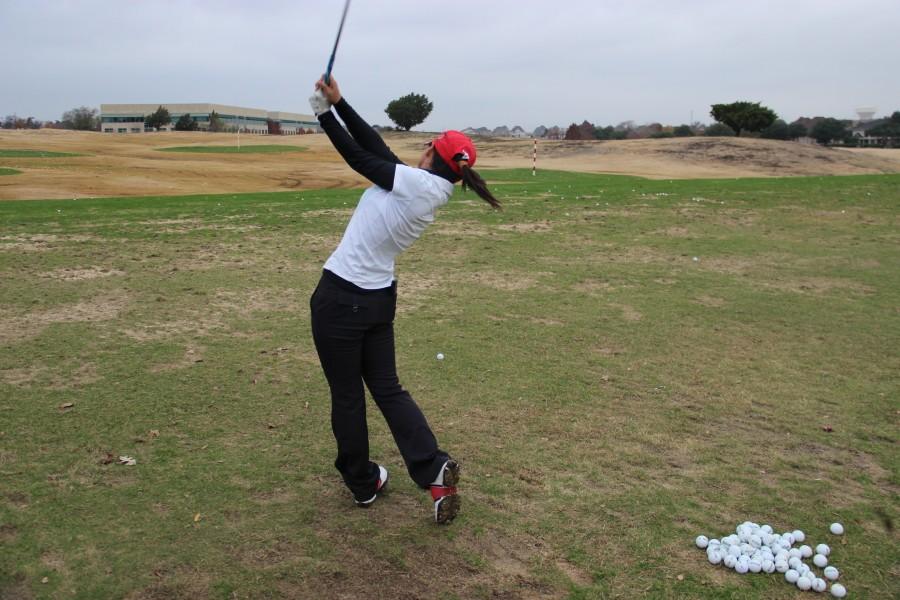 With one of the best teams to grace the golf course in Coppell High School history, the girls team is poised for a state championship. Behind the team, one player has one thought driving her personally.
"It could be my year," senior Sol Lee said.
Lee has her eyes set on placing at state, adding on to her already impressive triumphs.
Here is just a list of a few of the accomplishments Lee has achieved in her four years at Coppell: four year varsity letterman, three-time all-district selection, two-time all-region selection, honorable mention all-state as a sophomore, second team all-state as a junior and the record holder for a single round score, shooting a 63.
"She puts in a lot of time with golf outside of school, she works on all areas of her game, she works on her conditioning, she plays a lot of tournaments over the summer and she has just, every year, physically gotten better, gotten stronger and her overall game has also gotten better," assistant coach Jan Bourg said. "She just works, works, works."
Her training is not lost on her teammates either.
"Her dedication and just the amount of time she puts in [with golf]," senior golfer Chaithra Katamneni said when asked how she is different from other golfers in the area. "She cares about it."
Lee's training regiment rivals professionals and is almost unheard of for high school golfers. She practices for about two hours everyday but focuses on, in her opinion, the most important part of golfing for 30 minutes to an hour each day: putting.
"I put a lot of work into golf," Lee said. "I'm pretty determined to practice everyday. I don't plan on getting achievements, they just kind of happen."
If all these are not enough to persuade you of her talent, Lee is also going to the University of New Mexico on a scholarship to pursue her love of golf at the next level.
"It was just a really pretty place," Lee said. "The practice facilities were great, their dorms were like brand new, so that was a big turn on."
With all her achievements, it is surprising that golf was not Lee's first love. In fact, another sport captivated her when she was younger.
"I started [playing golf] when I was 9 and I wasn't really interested. My mom just kind of put me in the sport," Lee said. "I used to play tennis but then my dad could not play with me and she wanted me to play a sport I could play by myself."
Although she said she never would go back to the sport, due to time constraints of practicing with golf, she did admit that she misses tennis some.
One thing Bourg has noticed in Lee this year that is different from previous years is her level of maturity. Golfers will attest to the fact that one of the most important skills a golfer can possess in his repertoire is a short memory. While she has calmed down now and learned to utilize this skill, she was known for her fiery competitive spirit that occasionally got the best of her.
"Golf can be seen as a slow sport, but there is a lot of concentration that goes into it," Lee said. "It is really easy to look back and say 'Wow, why did I do that?' and it stays with you and that messes up your entire game, whereas if you played a faster sport, you can just move on really quickly.
"I used to have a really bad temper my freshman and sophomore year and I would get mad on the course. After awhile you kind of grow and say 'It's OK, there's always the next hole that I can birdie.'"
Bourg echoes this sentiment but also stresses her growth and how much she impacts the team, not only in competitions, but as a teammate as well.
"She likes to have a lot of fun," Bourg said. "She has a kind of quirky personality; she'll just say some really random things at times, but she's also matured. She use to get really mad at herself and she tries not let a shot affect her entire round.
"Golf is a lonely sport because even though it's a team score, you never see your teammates out on the golf course. It's just you on the golf course and then girls from other teams.You have to know how to let a couple of bad shots or a couple of bad holes affect your entire round."
The Cowgirls golf team, with the help of Lee, has made huge strides towards a state title for the program in past years and has no intentions of slowing up now.
"Hopefully we will place in the top three in state and win district and regionals again," Katamneni.
With the golfers on board with this shared goal and a talent like Lee on the roster, the job of a coach becomes a little bit easier.
"The ultimate goal would be to a win a state championship," Bourg said. "If everybody does their part we have a really good chance to do that. If we didn't win state but at least medaled in the top three it would be a big achievement for our program."
Lee, known for her skills on the golf course, is also knows her way around a pen and pencil, being a part of the Coppell art department for all four years. Taking a multitude of classes from AP Art History in her freshman year to Digital Graphics and Animation (DGA) her senior year, Lee has been able to explore another one of her passions outside of golf.
She admits that DGA is quite different from the traditional art classes she has enjoyed in the past, she likes the challenges associated with learning a new craft.
"It's a lot of computer and Photoshop stuff but you still get to draw," Lee said.