Students prepare for seventh annual STEM Expo
By Gabby Sahm
staff writer
@gabbysahm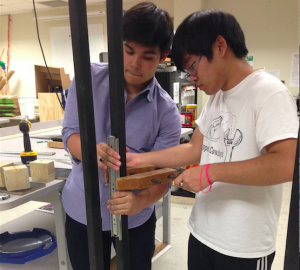 When you walk into the commons of Coppell High School this Sunday, you will be greeted with bright lights, buzzing sounds and whizzing toy helicopters. The Science, Technology, Engineering and Mathematics (STEM) Academy is hosting its seventh annual STEM Expo at CHS.
The purpose of the Expo is to show parents and students of all ages the projects and inventions that STEM has been working on. The Disruptive Innovation Team, one of the organizations in STEM, has been working on the first mock up of Gateways, an invention that will incorporate new technologies to develop a new interactive training device capable of being immediately personalized for each student suffering from disabilities.
The Coppell community can also see the solar car, a bike that powers lights and the robotics team's previous year's robot, along with some other projects. Junior Ruth Fernandes commented on how there will also be colleges present that have a high focus on engineering and technology like the University of Texas, Texas A&M University and Massachusetts Institute of Technology (MIT).
"I really like the expo," Fernandes said. "It is a great way for students to talk to colleges that specialize in engineering, and for them to get a feel for what it will be like after high school."
The STEM expo will last from 3-5 p.m. on Sunday, and admission is free.