Coppell tennis triumphs over Raiders in 19-0 shutout
By Alex Irizarry
Staff Writer
The sun beat down harshly as the Cowboys and the L.D. Bell Blue Raiders squared off on the court, but from the beginning the Cowboys had a distinct advantage, winning all of their 19 matches.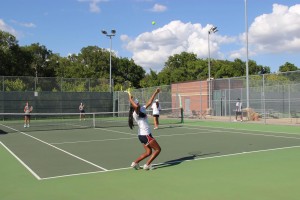 L.D. Bell had some standout playing from the doubles teams of Taylor Jackson with Diana Carvajalino and Tarun Rajpurohit with David Xia. Both teams were able to put up three points but in the end the Cowboys overpowered the Raiders in every match pulling a 19-0 win.
"Our kids did a good job playing at the level of the opposing team," said coach Rich Foster. "We did not make the mistakes teams do when they are up 17-0."
This includes the winners of the team balls, freshmen Nayana Menon and Yash Reddy, who did not play doubles matches but came out for their singles matches and shut out their opponents winning both of their sets 6-0.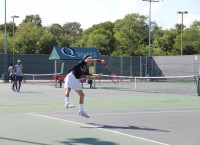 Although there was plenty of positives from this tournament, there is always room for improvement, and for Coach Foster that improvement needs to be in doubles.
"I think one of the main things we need to work on is closing out our doubles matches, we have a tendency to to let them come back instead of finishing it."
The Cowboys varsity team plays again on Friday in a tough matchup against the Byron Nelson Bobcats.