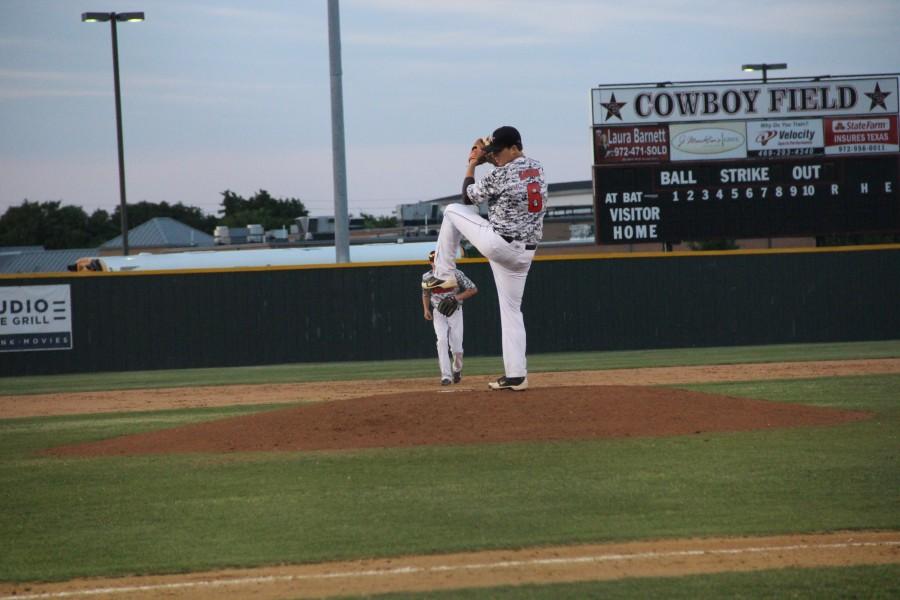 By Alex Nicoll
Staff Writer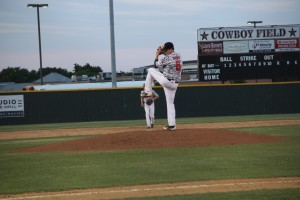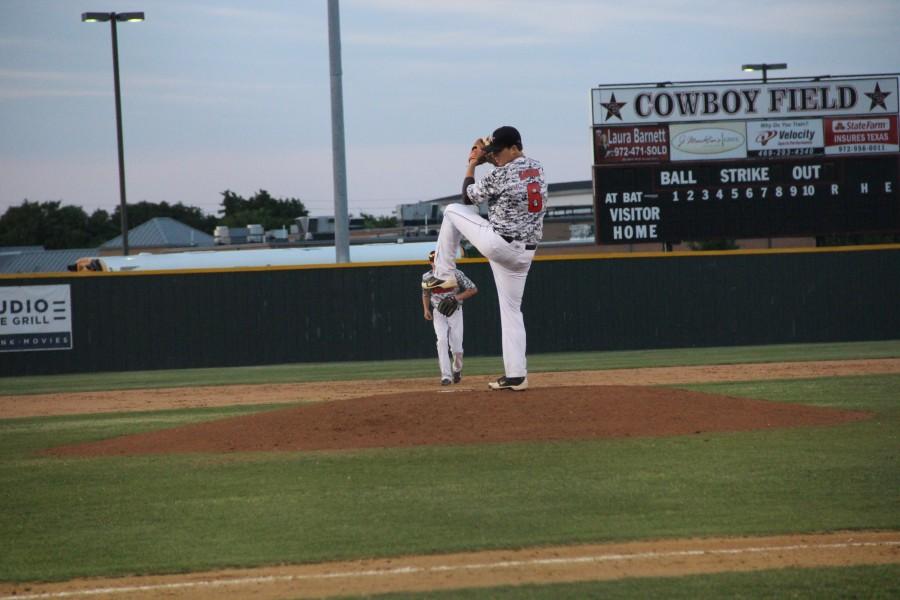 Senior catcher Cal Hernandez went 2-2 on the night with a double, senior pitcher Drew Hanson struck out four in six innings, and the Coppell Cowboys held off the Irving Nimitz Vikings to win 5-4 in tonight's playoff game.
"That is playoff baseball right there," coach Kendall Clark said. "They are a quality team and they hung in and battled because teams that don't battle back are not in the playioffs. We got a really good pitching effort from Hanson and of course Jensen [Elliott]to close out the game for us."
Most of the action was contained in the first inning, with Nimitz getting on the scoreboard first. Nimitz outfielder Jason Landis reached first on base on balls and was followed by a double from catcher Braden Williams. Both scored off a costly error from the Cowboys.
Coppell responded with a leadoff hit from Hernandez, followed by another base hit from junior outfielder Daniel Jones. Sophomore outfielder Myles Paschall contributed another base knock, but a throwing error by Nimitz resulted in Hernandez and Jones scoring. Sophomore outfielder Shane Steiger reached base off another Vikings error that cost them another run, as Paschall came home.
With five combined errors, both teams' defensive presence was lacking tonight and it proved costly as both teams capitalized on the others mistakes.
"We have no one with playoff experience, so you are going to be jittery the first time out there," Clark said. "I don't know about them, but we had no one who has been in the playoffs before. We are running a young team out there but our seniors don't have any playoff experience, our juniors don't have any playoff experience, and even our sophomores don't have any experience. Their hearts' are probably going 200 mph and are about as nervous as a cat."
After the first the score stood at 3-2 in Coppell's favor.
The next two innings were relatively quiet for both teams as neither team scored even though the Cowboys left runners in scoring position both innings.
In the bottom of the fourth, Coppell padded their lead bringing home sophomore second baseman Cole Solomon and Hernandez to tack on two more runs. Hernandez, finished the game without recording an out at the plate and managed to score twice for the Cowboys.
"[Hernandez] just brings a sense of leadership," Hanson said. "He has been playing on the varsity level now for three years. He's a great leader behind the plate and I love pitching to him. He brings a certain energy level that is contagious to everybody else ion the team that makes us want to win."
Nimitz posed to make a comeback in the fifth, but only managed to get two runs in the inning. Leadoff man Matt Mikusek hit a single through the gap, reached second off a sacrifice bunt, and was followed by catcher Braden Williams who was hit by a pitch. After Hanson struck out the next batter, he surrendered a triple by outfielder Josh Ragan.
"I knew that my defense would have my back, and I knew that it was going to  be a close game," Hanson said. "I did my best to make sure I didn't get bigger than the game and to make sure  I stayed composed."
Ragan attempted to steal home on the next Nimitz at-bat but was tagged out at the plate by Hernandez.
With Coppell holding onto a 5-4 lead going into the sixth, Hanson dueled his way out of a jam. After a spectacular diving catch from Jones, Nimitz got two men on base. Hanson forced a pop-up back to himself and a fly-out to the outfield to get out of the inning with the lead still intact.
"They just told me to pitch how I knew how to," Hanson said. "Obviously [Jones] made a great play, and I knew there are going to be errors every now and then. Baseball is a game of errors but my defense would back me up and we managed to come out of that sixth inning with no runs on the board."
After walking the lead-off batter, sophomore Jensen Elliott came in for relief for Hanson in the seventh and ended the game in dramatic fashion with a three-pitch strikeout.
"You kind of have some signs of when to change [pitchers] out there," Clark said. "When your pitcher is at 90 pitches and walks the leadoff man, that is usually a sign to go get him right then and not wait and lose the game."
Coppell will face Nimitz tomorrow at 7:30 p.m. at Irving Nimitz High School in the second game of the series in the first round of the Class 5A state playoffs.