Anderson to attend The Juilliard School's dance program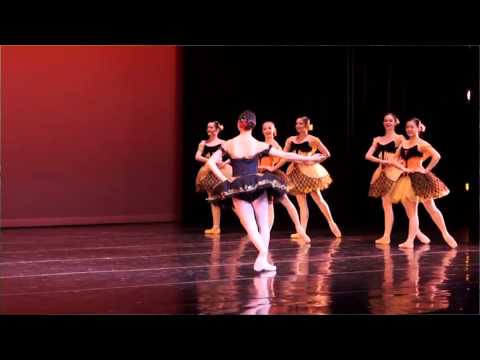 By Shruthika Pochampally
Staff Writer
Every year, high school seniors have to make the gruelling decision of where they want to apply to school. Filling out applications, sending in scores and then waiting patiently for acceptance letters are just some of the stressful activities students have to endure to get into their dream colleges.
For Coppell resident and John Paul II High School senior Melissa Anderson, her application process was slightly different, as she applied to The Juilliard School, the renowned New York school for the most talented performers in the world. However, auditions, judges and stressful performing conditions are nothing new to Anderson, who will be one of the 24 students comprising The Juilliard School's freshman class of dancers this fall.
Anderson, a dancer of 13 years, has been a part of The Ballet Academy of Texas in Coppell since the beginning of her journey as a dancer. With support from her parents and teachers, the 17-year-old ballet, jazz and contemporary dancer will soon be able to achieve her goals of being a professional dancer.
"The moment that I realized that I would want to be a professional dancer was whenever I realized nothing else really interests me," Anderson said. "I just love being active and interacting with people on a very personal, physical and intimate basis."
Lisa Slagle, the director at The Ballet Academy of Texas in Coppell, has been working with Anderson since she joined the Academy.
"She is extremely focused and very smart," Slagle said. "We had an injury in a ballet that she had not even had the opportunity to learn, but the month before the ballet was going to be performed. I put her in for the injured girl because she picked it up faster than some of the girls who had been there all along."
Anderson's ability to pick up new material supplement her dance skill, allowing her to be a good dancer in the eyes of her peers, instructors and college admissions alike.
"What I see as a teacher is that she is really adept at contemporary dance and modern dance. She has a really good ballet foundation, but ballet is not her forte," Slagle said. "If she was wanting to be a classical dancer, which requires a certain shape of feet and legs, it would be a challenge for her, because there are so many more wonderful things about her dancing."
Throughout her many years as a dancer, Anderson claims the art form has many characteristic benefits apart from physical ones.
"It's physically demanding, but the hardest aspect is probably being constantly looked at, and never really knowing if what you are doing is right because your peers are looking at you, and kind of eyeing you because it's almost like a competition, and then also just being categorized by the faculty and teachers you are dancing with," Anderson said. "When I was little, I remember [thinking] 'I'm not as skinny as her,' or 'I can't do that, there's no way I can do that,' and to take that out of my mind and [think] 'OK, if you try hard enough, you can do it'- you move up from there."
Over time, the dancer claims to have learned more from dancing than she had initially expected.
"[Dancing] made me more confident because you are constantly looking at yourself in the mirror so you learn to accept who you are, despite your body type. Even if your legs don't go as high as the other person's, you realize to value yourself with your abilities," Anderson said.
Anderson also had the opportunity to tour Austria in June 2013.
"[Touring Austria] was amazing," Anderson said. "We had these pieces prepared and we brought them to Austria. We toured Innsbruck, Salzburg, Italy- all these really cool places, and they had these cute little outdoor stages and we just performed for locals that really appreciated dancing."
Though the trip consisted of 12 days of dancing, performing seven different pieces, and learning new concepts with renowned European dance instructors, Anderson was able to quickly pinpoint the best moment of the trip.
"It was the last night. We performed for a school of disabled children, in Germany, and it was outdoors. If you looked past their town square, it was just mountains and it was so beautiful," Anderson said. "So not only are you performing for people who really appreciate it and making them happier despite their situation, but you look up, and it's really rewarding for yourself, because you can't believe you're really there."
Touring Austria is just one of Anderson's many achievements, and her loved ones expect her to achieve much more throughout her time at Juilliard and afterwards.
Though Anderson has experienced many great opportunities as a budding professional dancer, she has learned to appreciate the normalcy in her life.
"My journey as a dancer so far has been very constant, because I have lived in Coppell all of my life, this is the only dance studio [Ballet Ensemble of Texas in Coppell] I have ever been to, and I've always been with the same faculty. I would have ended up going to school in Texas and stayed in Texas," Anderson said. "My life has been like a straight line. And so, getting the opportunity to go somewhere so amazing- right now the line is just shooting up. I feel like this is starting to climb up, like leading up to the climax."
Anderson's best friend of four years, Willow Bend Academy senior Emily Rowden, said that while Melissa has many attributes that make her a good dancer, there are a few that stand out.
"She is an amazing jumper and would be able to jump alongside the boys if she wanted to," Rowden said. "She can move fast but gracefully, and her love of dance shines through when she is dancing."
The Juilliard School, famous for its 7.3 percent acceptance rate and top class fine arts education, consists of a dance program of four years and 24 students.
The Juilliard School has about 5,000 applicants per year, 600 of which are for dance. Dance is a mandatory four year program in which students build up new techniques every year. Their classes are a mix of ballet with contemporary and modern and they are in classes from 9 a.m. to 10 p.m. around six days a week.
Though it is a competitive environment, the small classes allow students to form bonds with their peers on a personal level.
Anderson's admission is just one proof of her immense talent and prospective future as a professional dancer.
"In all the years that I have been teaching, which is 15 years in Coppell and longer than that elsewhere, this is the second student that has applied to Juilliard and been accepted," Slagle said. "It is extremely hard to get into Juilliard, and even more competitive for girls. I am very proud of her."
Video by Cassidy White and Taylor Bryson

Hang on for a minute...we're trying to find some more stories you might like.