Cowboys send Broncos packing, set to defend title Saturday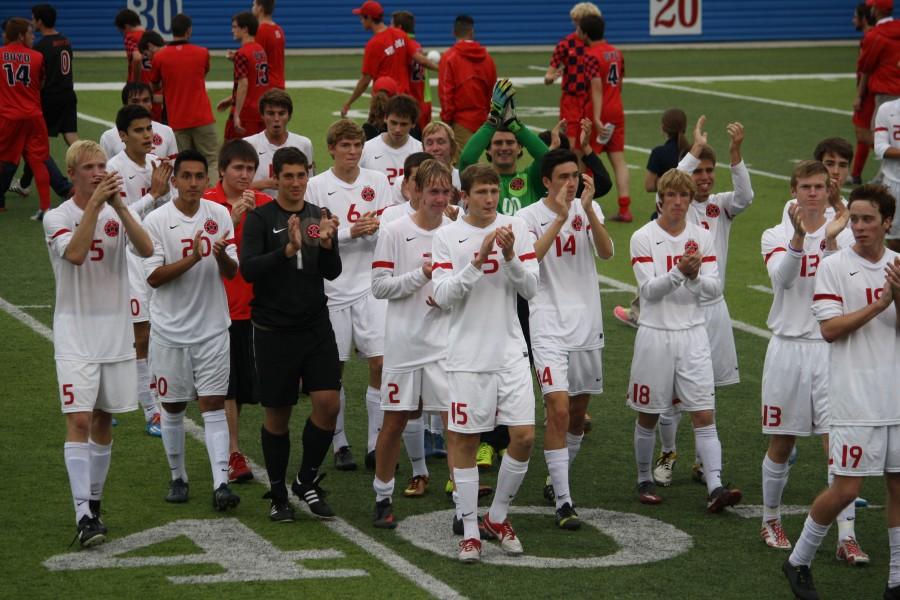 By John Loop
Sports Editor
Justin Todd Scores a Win for Coppell
GEORGETOWN – The McKinney Boyd Broncos found one way to stifle the Coppell Cowboys in the UIL Class 5A state semifinal game on Thursday afternoon: pack the box.
Boyd's 4-5-1 defensive-minded formation took the Cowboys out of their usual run-and-gun, up tempo playing style for the majority of the game, but a well-timed flick header from senior forward Justin Todd in the 68th minute beat the Broncos, 1-0 and send Coppell to a second straight state title game.
Coppell will face Fort Bend Clements, who defeated Brownsville Lopez in the second boys semifinal 3-2, on Saturday at 1 p.m.
It was a game unlike anything Todd and the Cowboys had seen this season, after seeing Boyd cram way too many bodies into the area near the goal.
"At one point I saw them put 11 players in the box," Todd said. "I had never seen anything like that before."
Coppell seemingly possessed the ball for close to 80 percent of the time, and had more than enough opportunities to help put themselves on the board, but the Bronco backline swarmed the Coppell offensive front once the ball reached the 20-yard mark.
"It is difficult to be patient in that situation," Coppell coach Chad Rakestraw said. "We are so used to be playing at such a fast-pace and really push the game on people. For [Boyd] to pack it, park the bus in there, and just sit in there and hope that they clear off a couple of balls, it's just frustrating. "
But Todd, who had been yellow-carded in the latter stages of the first half, saved the day for the Cowboys, positioning himself perfectly to one-time a header beyond the reach of Boyd junior goalkeeper Evan Davies with 12 minutes remaining in the game.
"Before the goal, it was stressful just waiting for one to drop," Rakestraw said. "After it was a feeling of relief, kind of a sigh of relief. I definitely like the after feeling."
With the Broncos in the rear view mirror, Coppell turns their attention to Saturday's title game and reaffirming their dominance in Class 5A world.
"We have one heck of a team," Todd said. "This family is awesome and I hope we win state."