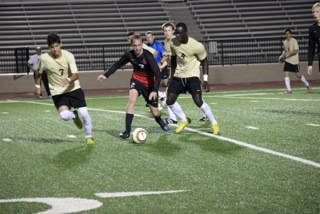 By John Loop
Sports Editor
The road back to Birkelbach Stadium in Georgetown got a little straighter for the defending Class 5A state champions.
Coppell (18-1-2) advanced to regional quarterfinal match after defeating the Mansfield Tigers (12-9-1) 4-0. The Cowboys will face the winner of the area match between Colleyville Heritage and Duncanville.
Kickoff got a late start after a weather delay postponed the game's beginning for a little under an hour.
Though lightning was a setback in the beginning, the weather did not put a damper on the aggressive Coppell offensive attack for the rest of the night.
Junior forward Roberto Arguello jump-started the scoring with a goal in the 4th minute. Senior forward Justin Todd added two scores in the middle of the first half.
"We wanted to come out and put them on their back foot, and we did a good job of doing that," Coppell coach Chad Rakestraw said. "We jumped on them early, got a couple goals, and we were able to put in a couple insurance in the end of the first half and the beginning of the second."
Senior midfielder Mitchell Apple added one score late to put the game away.
Thursday was also the first full 80-minute match for junior goalkeeper Robbie Coens. Coens has been nursing a back injury over the last six months and had not seen game action since before the season started, but still managed to keep all the Tigers' shots from getting in between the posts.
Coppell seemed to regain its mojo from last week's sloppy 3-1 win over Grapevine and will look to carry that momentum into their next match.
"Last game was a test because we came out flat, and we just knew we had to come out right from the start," senior defender Kellen Reid said. "We came out fast and early, even though there was a delay, and got our minds right."