Katamneni tees up hopes for pro career
By Shruthika Pochampally
Staff Writer
In today's overly competitive high school scene, it is easy to get caught up in the masses. Coppell High School junior Chaithra Katamneni, however, has managed to shine amongst her peers. Her special talent? Golf.
Katamneni, who has been playing golf for seven years, has been on the varsity golf team throughout high school, and plans on finishing her fourth year as a part of the team, as well as playing the sport after high school. She is currently talking to many schools, but has not yet narrowed down her choices.
She claims that this would be difficult without her parents' constant support and encouragement.
"Both of my parents are very supportive of my golf career by offering advice and instruction, as well as putting me in tournaments that help me become the golfer I am today," Katamneni said.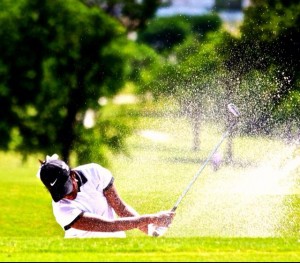 While she spends three hours a school day practicing with the Coppell team, Katamneni also spends anywhere between two and to six hours a day outside of school practicing golf.
"During the summer and breaks during school, a lot of the time, if not most, is spent at the golf course, though it is really based upon when the sun goes down," Katamneni said.
Like most teenagers, Katamneni admits the biggest challenge is finding a balance between various activities.
"An education is very important, I can't choose one over the other. The hardest part is balancing classes, practicing golf, school and personal tournaments, homework time, and sleep," Katamneni said.
However, Katamneni claimed to love the sport enough to accept the downsides there are to being strenuously involved in a high school sport.
"Chaithra is a very caring, kind-hearted and team oriented person. But she also has a very competitive drive to be an excellent player," CHS golf coach Terry Galbraith said. "She is a self-motivated person that has set extremely high goals. Therefore, she challenges herself every day to meet those standards".
Katamneni's friends agree on her determination and hard work, which they said was her best asset.
"From what I have seen of Chaithra, I can see she is super dedicated to anything she believes in," long time friend and CHS junior Nitya Chivukula said. "She works hard to follow her dreams and get the results she wants".
Katamneni went to India in the eighth grade to play as an amateur in an international professional tournament.
"I got insight on what it would be like to be a professional," Katamneni said. "I also got to play alongside people from many different countries, and made a lot of friends".
She also said the visit to India taught her a lot about golf in general.
"I got to not only play but practice and talk with the winner of the tournament," Katamneni said. "I also met the British legend that is Laura Davies and got very good advice from [recently retired Swedish player] Helen Alfredsson".
Galbraith, who has coached Katamneni for the past three years, stated the golfer was an important member of the team last year, which accomplished two achievements for the first time in Coppell golf history–Regional Team Champs and State Team Qualifiers titles.
"She has won the District Individual Championship both her freshman and sophomore years as a part of the Coppell team," Galbraith said. "And she led the girls to two District Team titles."
Katamneni's golf commitment has never faltered throughout the years, and those who have seen her over the years say she has in fact improved at the sport.
"She is more consistent this year and has her lowest scoring average compared to her other two years," Galbraith said.
Katamneni and the rest of her team, currently ranked No. 3 in the state for Class 5A, is hoping to return to State this year for the second time and possibly win in the first three places, and possibly even win at State.
Katamneni continues to play alongside the Coppell varsity team and has big dreams for her future.
"I would love to play in the 2016 Olympics," she said. "It would be a beyond amazing experience to be representing the United States. I would love to turn pro sometime in the future."