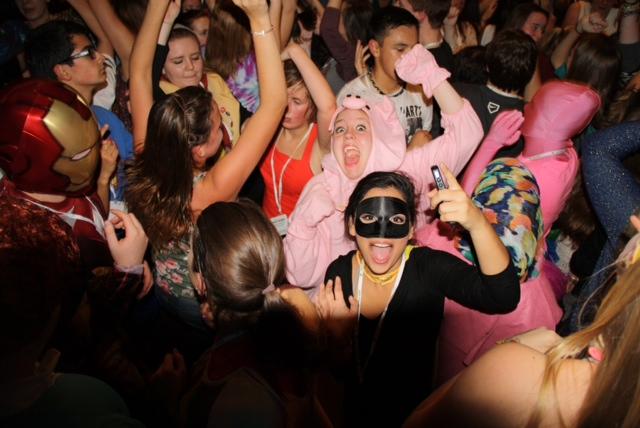 By Kristen Shepard
Editor in Chief
BOSTON – A cow, Miley Cyrus, Santa Claus and Iron Man made an appearance at the Sheraton Boston Hotel on Friday for the JEA/NSPA Fall National High School Journalism Convention's dance.
A Journalism Education Association/National Scholastic Press Association tradition, this year's dance, titled the Boston Bash, attracted students from across the United States, and offered a unique opportunity for students to socialize with fellow aspiring journalists in a casual, cosmopolitan atmosphere.
Beginning at 9 p.m., the dance started as most dances do: slow and uncomfortable. It was not long until school after school piled into the Sheraton grand ballroom, each bringing forth a unique energy and appearance. By 10:30 p.m, the dance was overwhelmed with teenagers eager to show off their dance moves.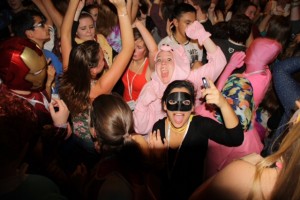 One publication showed up in pajamas toting stuffed animals, another debuted as minions from the movie "Despicable Me". Even though his school did not coordinate outfits, senior John Hearne from Lake Central High School in St. John, Ind. proudly donned a cow suit.
"The goal behind the cow suit is to promote the idea that this dance with be 'udder-ly' a blast," Hearne said. "The dance is a great way to act like a goof with your fellow staff members and not worry about how others view you."
Serving as the student director of his school's broadcast, LCTV, Hearne hopes that demonstrating boldness by sporting a cow suit will encourage the younger members of his publication to step outside of their comfort zones.
"If nothing else, the my successors will remember me as 'John the Cow'," Hearne said.
Not all students shared the same nerve and enthusiasm as Hearne. Quinn Moore from Robinson Middle School in Fairfax, Va. sees the dance as an opportunity to preview the high school experience.
"The high school in my district allows a few middle school students to attend these conventions each year, but I'm only an eighth grader," Moore said. "Now I get to see what high school is really like. Just in the last two days, I have met so many nice people and I have tons of idea to change my school's yearbook when I get to high school."
JEA Executive Director Kelly Furnas kept a watchful eye on the dance, serving as an unofficial chaperone. A professor in the A.Q. Miller School of Journalism and Mass Communications at Kansas State University, Furnas is an experienced and passionate educator.
"You guys have been sitting all day, hour after hour after hour, and the idea behind the dance is giving you guys a way to unwind and let loose," Furnas said. "Most students are very comfortable with the idea of a dance, because they probably have them at their schools."
The dance, however, is more than a chance for students to let their energy lose. Through the Boston Bash, students are given the opportunity to network with student from all around the nation. The JEA planning board elects to host the dance on Friday night so that students have the opportunity to meet students in their sessions prior to attending the dance with them.
"The dance gives students a chance to see their peers in a completely different atmosphere than in their classes," Furnas said.  "From a logistics point of view, the dance is a good way to keep all students entertained for a long period of time without major security concerns."
In a loud and electrifying atmosphere, journalism students from across the country put down their microphones and notepads and put on their dancing shoes in a night that will go down as yet another successful JEA/NSPA convention dance.