By Gabby Sahm
Staff Writer
It seems technology is involved in everything we do these days. Books are no exception. Many technological companies are coming out with new and innovative ways of getting your favorite novels and magazines in an instant, and with this new technology comes competition. Every big name technology brand is striving to have the best version of an e-reader, and there is a different model for everybody.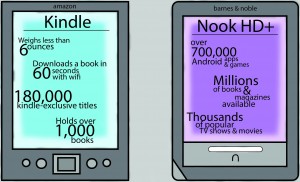 Barnes & Noble has come out with its own versions of digital books. The Nook Simple Touch and Nook Glowlight come with the bare essentials, but make up for it in the the reading experience. They do not come with many gadgets, so you can truly focus on the books you choose to read. These devices would better suit someone who does not know much about technology, and really just wants to read.
The Nook HD and the Nook HD+ are what most people look for. People are not just looking for books, they want a device that entertains them, which is exactly what the Nook HD and Nook HD+ do. They come with many features, including Google Play, so you will be entertained for hours.
With these great devices comes a price. The Nook Simple Touch comes in at $79, while the Nook Glowlight starts at $119. If your willing to pay to play, the Nook HD starts at $129 and the Nook HD+ is $149.
Amazon has also accepted the task of creating a tablet that houses millions of books for you. The Kindle comes in two versions, the Kindle Fire HD and the Kindle Paperwhite. The Paperwhite is very similar to the the Nook Simple Touch and Nook Glowlight. It is the version of the device that comes with the bare essentials. It mainly focus on your reading experience, whereas the Kindle Fire HD brings both books and play. You can FaceTime, watch movies, play numerous games and of course read your favorite books. The Kindle Paperwhite starts at $119, and the Kindle Fire HD comes in at $139.
All these devices started out as being a place to store your favorite books, but have evolved into more of event planning, everyday gaming device.  Apple has done the opposite, and it seems to have worked in their favor.
Everyone knows about the iPad, and all of the great features that come with it. However, Apple realized it was losing sales because it did not have an app where you could keep all the latest and greatest books.
Apple decided to create iBooks, a digital library, that keeps your books, and PDFs in check. They have an entire online store dedicated to books, poems and magazines for every type of person. On top of having all your favorite books, you get everything that comes with owning an Apple product.
The iPad comes in many different makes and models. You can get them either in white or black. The price varies based on the gigabytes and if you decide to get the cellular data plan. The 16 gigabyte iPad tops off at $399, while the 16 gigabyte iPad with cellular data is $529.
No matter what device avid readers choose to keep their books on, it is safe to say that books are taking a leap in the right direction.