Racism evident in Greek Life
By Shannon Wilkinson
Staff Writer
Ever since I was a little girl, I always listened to my mom talk about her sorority days at Oklahoma State University and how she made her best friends in the Alpha Delta Pi house. I could only wait and hope that I too would meet my closest friends.
Now that I am older and understand things better than I did when I was 8, I understand how hard it can be to join a sorority. Talking to family members that have gone through the process of rush more recently, I have learned that it is quite rigorous.
Recently, four sororities at the University of Alabama were accused of not considering an African-American girl because of her skin color.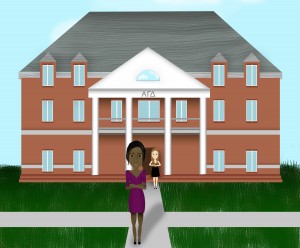 The Huffington Post states the girl was highly qualified with a 4.3 grade point average, active in public service and a high school salutatorian, but members of sororities suggested that she drop rush, and she was not even considered for a house.
Hearing things like this, I question our society and why racial discrimination is still around today. I am sure many young girls and boys have always hoped to join a sorority or fraternity, and racial discrimination should not stand in their way.
The color of our skin or where we are from does not make us better than anyone else it is how we treat a person and our morals that should determine whether or not we should be considered for positions in a sorority house or job.
Coppell High School 2012 graduate and Alpha Chi member at the University of Oklahoma Rachel Nutt said when she went through rush, she did not notice any racial discrimination, but did notice that some Asian girls were taken back to top houses as if they wanted a certain number of that race.
Since many Coppell students are hoping to pledge a sorority or fraternity, this is something they need to be aware of. I hope that no one would even think about keeping someone away from anything they love just because of what they look like.
Racial discrimination is something that even though thought of, as a thing of the past is still very much around. Although we may be joking, at the end of the day, comments and words still hurt.