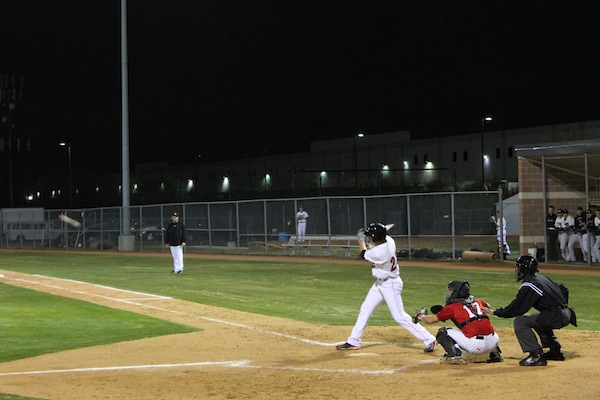 By Alex Nicoll
Sports Writer
One inning is all it took for the Cowboys' playoff run to end. Just three runs in the bottom of the fourth inning were too much for Coppell to handle as it lost 3-2 to Colleyville Heritage on Saturday at Heritage in the best-of-three Class 5A bi-district playoffs.
The Cowboys finished the season 23-9-1.
Another pitching duel set the pace of the game between Sam Kaskovich and Coppell's own junior pitcher Drew Hanson. Each had solid outings, but each gave up big innings.
Kaskovich's came early where the Cowboys stuck for two runs in the first off a home run from senior left fielder Daniel Day and a sacrifice fly from senior first baseman Jeremy Mortensen that scored senior third baseman Tyler Jones from third. From then on Coppell's bats fell silent much to the astonishment of coach Kendall Clark.
"I'm trying to figure that one out myself," Clark said.
The next three innings were relatively quiet with Hanson sitting down the order in the first two innings and then forcing the Panthers to leave two base runners in the third. Kaskovich was solid the rest of his outing only surrendering four hits the rest of the game, before being taken out.
In the bottom half of the fourth, Heritage found their stroke. Senior outfielder Matthew Barke started the inning with a single which was followed by a successful hit-and-run by senior first baseman Christian Gonzales. Barke scored on a Corey Althouse single. Seniors third baseman Jason Adams and left fielder Blake Knotts drove in one run each before the inning was out.
Heritage was up 3-2 after the end of the fourth. The three run inning spelled the end of Hanson's day and senior pitcher Jake Elliott was brought in as relief. He gave up one hit across three innings of play.
"He only had two innings top in him," Clark said. "If you pitch him in the fourth, he'll only go the fourth and fifth. Most people like their best guy at the end of the game where they can hold onto the lead. We wanted to save the game with him not end it. If we could've scored a run, he might have had one more inning in him."
Coppell had an opportunity in the fifth inning to take the lead when it had bases loaded with two outs. Mortensen grounded out to the shortstop to end the rally. Another chance came in the second when senior pinch hitter Hollis Rogers hit a single in the right field gap and was moved over by a sacrifice bunt from junior second baseman Cal Hernandez, but two quick outs ended the game.
Heritage almost scored again of the one hit Elliott gave up but a spectacular relay play from right fielder sophomore Daniel Jones kept the runner at third.
For most of the Cowboys this was their last game in their high school career but for the underclassmen this series provides motivation for next year.
"I told them I wished it worked out differently," Clark said. "They've been working hard all year long and giving their best effort. It didn't work out the way they wanted it to."
Panthers win Game 2 with walk-off single
Playoffs signify the start of a whole new season. It is a time for teams to put the past behind them and focus on one game at a time. It is anybody's to lose.
"When it is the state tournament, it is just one game and the winner moves," coach Kent Clark said. "It is just one more game."
For the Cowboys, the possibility of a sweep in the three game series with Colleyville Heritage was lost with a simple swing of the bat. Heritage defeated Coppell 3-2 by a walk-off hit with bases loaded on Friday at Heritage in the Class 5A bi-district playoffs.
Coppell senior pitcher Davis Oliver battled Heritage's Lane Norwood for dominance on the mound and until the sixth inning both were equally matched. Oliver opened up the game rough throwing six straight balls and walking senior outfielder and powerhouse Cody Thomas.
After a mound visit from pitching coach Clint Rushing, Oliver settled into a groove forcing a 6-3 double play to get out of the first inning and then retiring the order in the second.
"It was his first career playoff start so I think it was the jitters," Clark said. "I'm sure it was just a little bit of adrenaline flowing before he finally settled down."
Coppell struggled to produce runs, only stringing a few hits across the first five innings and leaving runners on base each inning. Heritage had little luck either as Oliver forced double play balls or a strikeout to hold the Panthers to only two hits through five innings of work.
Senior catcher Matt Delaney struck first for the Cowboys belting a double to bring senior Jake Plotsky from second. After senior first baseman Jackson Cramer was walked for the third time that night and junior second baseman Cal Hernandez struck out, senior center fielder Trevor Inman hit a fly ball to left fielder where a miscommunication between Heritage players resulted in a single and RBI for Inman.
After six and a half innings of play, the Cowboys went up 2-0.
Heritage sophomore second baseman Alex Alvarenga walked on the ensuing play and later scored off a double off the center field wall from senior right fielder Cody Thomas. Thomas leads Class 5A in home runs this year.
Thomas stole third and home after a throwing error from senior catcher Matt Delaney to Jones. Oliver closed out the inning with two strikeouts but the Panthers tied up the game after six 2-2.
Jones led off the seventh with a double that was followed by a single from senior right fielder Jeremy Mortensen. With a man on first and third, senior shortstop Tyler Zabojnik hit into a double play after a hit and run call stranded Mortensen on the base paths.
Plotsky and Delaney were walked by new pitcher Jason Adams but it did not matter as Cramer could not capitalize on the bases loaded opportunity and got out.
Senior pitcher Austin Gardner took over the relief role for Oliver who had thrown 105 pitches in the game. Clark pulled the plug to save Oliver's arm for the next series.
"Sometimes it does not affect you tonight but it will next week when your velocity dips down," Clark said.
After a double and a dropped infield pop-up by Gardner, he intentionally walked the next batter. Alvarenga hit a walk-off single to win the game for Heritage, 3-2.
"Well you play to win two out of three so in case something goes wrong it does not end your season," Clark said. "There's your mulligan. We just need to play our game. They should be low on pitching while we still have ours. We just have to get those hard hit balls to find holes."