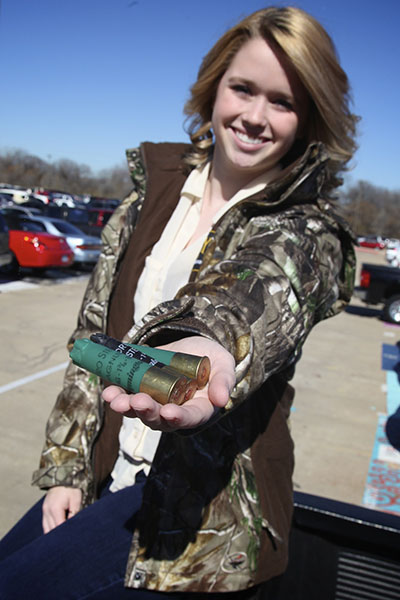 By Kristen Shepard
Staff Writer
Most people would agree guns and schools are a bad combination, but seniors Julie Miller and Carter West are looking to mix the two in their new Sporting Clay Club, where Coppell High School students will have the opportunity to practice and perfect their aim in recreational sporting events while learning the importance of gun control and safety.
The idea for the Sporting Clay Club started when Miller approached Outdoor Adventures teacher Bill Parker with the idea last semester. Miller wanted to round up a group of students interested in recreational shooting and launch a club where the group could shoot skeet, trap and clay.
"At that point, I hadn't met Julie and did not have her in my class, but she walked into my classroom and said, 'I want to start a shooting club', and I thought it was a great idea," Parker said.
Parker teaches students about hunting, archery and other outdoor sports in his Outdoor Adventures class. Each year part of the curriculum includes a unit on hunting, which encompasses information on gun usage and safety.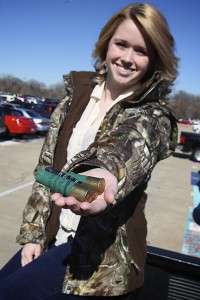 "Safety, safety, safety," Parker said. "Obviously guns are very dangerous and powerful, and we will not be taking the importance of gun safety lightly."
For Miller, shooting is no new activity. Her father is a hunting enthusiast, and Miller has been involved in hunting for as long as she can remember. Miller hunts deer, ducks and turkey in their respective seasons and shot competitive skeet with the Youth Target Foundation (YTF).
When she moved from Oklahoma to Texas last year, the absence of a Future Farmers of America (FFA) and 4-H club was disappointing.
"I got bored," Miller said. "The clubs I was used to in Oklahoma did not exist here, and I decided I might as well start up my own."
The idea of a shooting club is unlike any other club at CHS to date. The Sporting Clay Club is not advocating guns or guns in schools, but rather encouraging their use for recreational purposes and competition.
"Guns protect us, but they're lethal weapons and they have to be used responsibly," Miller said. "Of course we need gun control, but the concealed handgun law is perfectly effective. The people responsible for these awful shootings are not law followers, and no law can prevent this."
So far, roughly 20 CHS students have signed up for the Sporting Clay club, and a group of parents has taken charge of some of the smaller details like transportation and timing. T-shirt orders are in the works and a schedule is in progress.
One of the biggest contributors to the success of the club was a $9,000 contribution from Midway USA, a nationwide outfitter for shooting and hunting gear. In December, Parker and Miller applied for the grant, and with the money will be able to kick off the club up with a head start monetarily.
Each week, the students will meet up on Tuesday or Saturday to shoot 50 clay. Their first meeting date will be Feb. 12, where the students will attend a seminar about shooting safety and gun handling.
Miller, the president of the Sporting Clay Club, is assisted by West, who has helped Miller recruit club members and organize meetings. Like Miller, West is drawn to shooting as a sport.
"My favorite part about shooting is getting to be outdoors and competing against others," West said. "I'm looking forward to starting practice as a team, and on Feb. 23 we will be hopefully shooting in our first competition."
One of the biggest obstacles in starting the Sporting Clay club was the cost. Recreational shooting and hunting is an expensive hobby and school clubs consistently have trouble with their fundraising efforts. Membership fees for the Sporting Clay Club total $400 for ammunition, gun usage, facility rental and other gear. The club hopes to eventually fundraise to help soften these costs.
There really are no footsteps to follow in creating this club, as CHS has never had a hunting or gun related club, but Miller and West are enthusiastic to see it take off. The Sporting Clay Club will certainly be "shooting" for the best.