Football Notebook: After a week filled with tragedy, Cowboys stay strong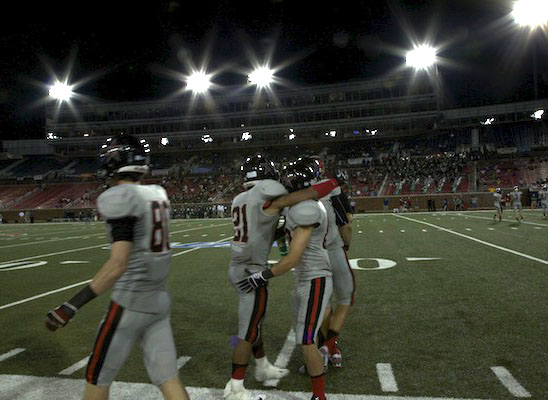 By Alex Nicoll
Sports Writer
This week the halls of Coppell are not filled with their usual laughter and happy environment. They are filled with sorrow over the loss of one of our own in senior wide receiver Jacob Logan.
The Coppell Cowboys, though, are fighting to get through this tragedy in preparation for their game Friday night against Flower Mound High School.
Coach Joe McBride is trying to rally his team and the Cowboys are bouncing back step by step, but Logan's presence on the field and in practice is sorely missed.
"Yesterday was very sullen, very quiet, but very focused," McBride said. "It was very touch-and go at times because the whole practice you are using people to fill in where he (Logan) was. He was in so many places on the field. It was constant little reminders that he was gone; we had to get through the first practice, the first game. There is going to be a lot of pain in those situations, but practice has been focused and good, the kids have been locked in and know what to do to do a great job. These are motivated kids."
The first day back was definitely the most difficult for McBride and his Cowboys. They were out there without their leader, their teammate and most importantly, their friend.
"To be honest with you it was a blur. We were all in excruciating pain, but I just told them that we all knew what he stood for, but one of the big things I have told them and what I am still telling them is that 'Guys we know Jacob was our bell cow' and I made sure to let them know what a bell cow is," McBride said.
"It is a cow that wears a bell around its neck, on a dairy,  that is trained to lead all these other cows into the milk house so they can all get milked. The other ones will not go unless the bell cow leads them," McBride said. "Well Jacob was our bell cow. These kids all followed Jacob, and Jacob is not here and we cannot just aimlessly wander around the pasture. We need to hear his bell. He meant to do the right things, we knew what he stood for, we knew how he played, we know how he practiced, we know the decisions that he made, so it has been mental and we know what to do. We need to hear his bell and go do it.
Logan was half of the team. Out of the two offensive sets that Coppell runs, Ram-Cat was created to fit Logan's style of play mostly. His loss has impacted Coppell greatly, in the community and on the field.
"There is still a lot of hurt and there is still a lot of pain but we are going forward with Jacob in our heart and we are going to get there," McBride said.
Varsity was out there running plays. Senior quarterback Colby Mahon was throwing slants to senior wide receiver Cameron Smith. Sophomore running back Charles West pounded the line with draws.
The team is determined to win this game for Logan and McBride expects nothing less.
"I expect them to play their heart out. There has been a load of things that have been going on but I know that they are very motivated, and everybody is ready to stand in the gap that he left. I think they are really motivated to play their hearts out for him," McBride said.
This Friday night and for the rest of the year, the team will commemorate and honor Logan in many ways ranging from his number on the helmets to players wearing his number.
"There are a few things we are going to do, like put his number on the helmets, putting a jersey on the guy that is taking his place at his position, and his sister will be the captain in his place," McBride said.
McBride left one challenge for people to do to truly honor Logan.
"If the people really want to learn and hurt for his situation and want to learn and grow from it and let such a great kid affect them, then I think the number one lesson that all these kids and people can learn is that Jacob had a great faith foundation that made him strong in the face of peer pressure," McBride said. "The one thing I wish every one of these kids can look at from Jacob is that everyone who knows Jacob, that truly knows him, knows that he stood for something solid and good. I would challenge every kid to make the decisions he made."
Flower Mound game
This week, the Cowboys will be taking on the Flower Mound Jaguars at Flower Mound high school at 7:30. Come out and support you Coppell Cowboys.
-Alex Nicoll
DMN's Cowlishaw honors Logan on Around The Horn
Dallas Morning News Coliumnist and writer Tim Cowlishaw wore the blue ribbon that studuents have received to honor Jacob Logan when filming Around the Horn, a weekly sports round-table show.
Cowlishaw explained the story along with the significance of the ribbon to host Tony Reali, and popular sports columnists Bill Plaschke, Bob Ryan, and Kevin Blackstone.
To watch the full explanation, click here.
-John Loop
Smith tallies tenth touchdown
Senior wide receiver Cameron Smith caught his tenth score, a 13- yard toss from Colby Mahon, late in the final quarter of play against Hebron last Friday.
Smith sits near the top of the district receiving leaders. He is third, behind Skyline's Ra'Shaad Samples and L.D. Bell's Aaron Dixon in total receiving touchdowns (10), and tenth in receiving yards (527).
-John Loop
Sidekick sports notebook schedule:
Monday: Volleyball
Tuesday: Cross Country
Wednesday: Football
Thursday: Golf
Friday: Tennis