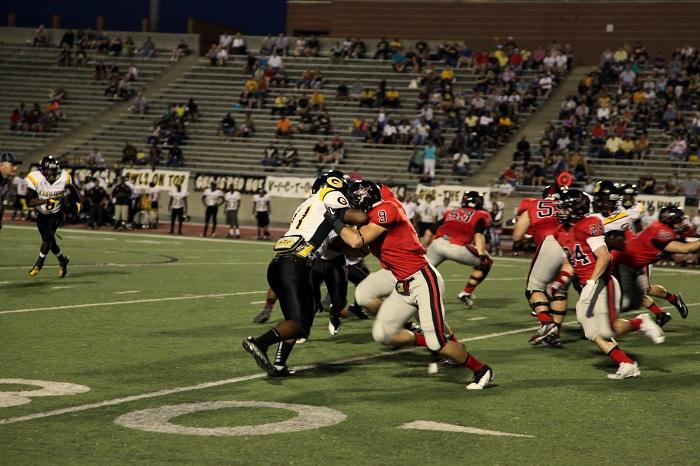 By John Loop
Staff Writer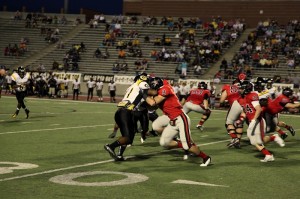 On a night when the Coppell Cowboy offense was clicking on all cylinders, the defense gave up the highest amount of points, 14, they had allowed all season.
Going back to square one to get ready for Allen next week is at the top of the Cowboys' list. The Eagles boast one of the highest scoring offenses in the state.
"Those 14 points are on us," senior defensive back Jacob Logan said. "There was nothing special [Garland ] really did. We will go back to the drawing board on Monday to get ready for Allen."
Late in the fourth quarter, Coppell gave up two rushing touchdowns after the game was already decided. If they are leading the Eagles by a slim margin next week, then letting in late scores could spell trouble for the Cowboys.
The Owl rushing attack seemed to steamroll the defense all night. Both touchdowns in the last 11 minutes of the fourth quarter were on runs of more than 20 yards. Although Coppell out-gained Garland in total yards, 359-327, the Owl running game still proved to be a thorn in the Cowboys' side.
Through all this, though, head coach Joe McBride was still able to get all of the backups in on defense. The switch was made at the 1:30 mark of the fourth quarter.
"All the kids got in on defense and got to play on Homecoming and that was more important than shutting them out," McBride said. "I wanted to make sure some other kids got in."
Allen, on Friday night, chalked up another victory, a 42-17 win over Hebron. Senior running back Jeff Harris spearheaded the Allen rushing attack, gaining 160 yards on the ground.
The Coppell defense will need to hold strong next week at Buddy Echols Field if it expects to contain Allen's high octane scoring machine.
"We can't look past any of the other teams on our schedule," junior offensive lineman Bryan Berens said. "Every team has the ability to beat us. We need to step it up and be ready for them."