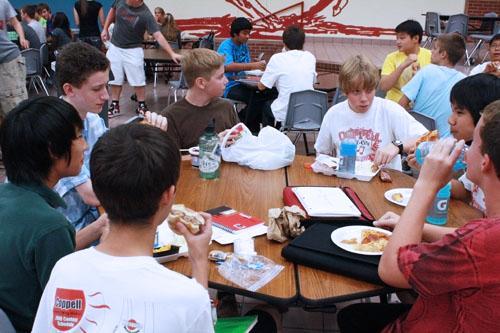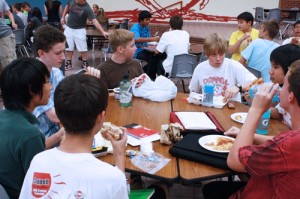 By Caroline Carter
Staff Writer
Class of 2014
Where do I go if I have a question about something such as my schedule?
If you have any problems such as a schedule change, lost item, or locker issue you can always go to the freshman office, which is located in the downstairs E hall on the left of the freshman stairs.
"The counselors are really helpful whenever I needed to get my schedule changed at the beginning of second semester. They were willing to help me out, which is nice because schedule changes can sometimes be stressful," junior Natalie Hinson said.
What if I don't have lunch with friends?
Many incoming students fear that if they don't have lunch with their friends they will have to sit by themselves. It might be scary walking into the cafeteria by yourself, but find someone in your fourth period class, which determines what lunch you have, to walk with you.
"At first you're going to be nervous about not knowing anyone but try to be social and don't be afraid to make new friends from your classes. It makes the transition from middle school to high school so much easier," senior Shelby LeBlanc said.
Where do I go if I have to leave school early for an appointment? 
If you every have to leave school early for an appointment, it is very important that you follow certain steps so you avoid receiving an unexcused absence, as many students face problems with unexcused absences.
The morning of your appointment, you need to go to the attendance office, located next to the horseshoe. There you will give them a note from your parents. They will them give you a pass which permits you to leave during class that day.
Once it is time for you to leave for the appointment, you must return to the attendance office and sign out; this avoids any confusion with attendance issues at the end of the six weeks.
When you return to school, you will go back to the attendance office and sign back in. A person in the office will give you a pass for you to return back to class. Once you receive the pass, you should go to the teachers' rooms that you missed and they will sign the pass and give you any work that you missed.
If you happen to miss an entire day, go to the attendance office where they write you a pass explaining to your teachers why you weren't here.
How can I become involved at Coppell High School?
It is very easy to become involved at CHS. With many clubs at the high school, students can find other students and teachers that share their passion or interest. Many of the most popular clubs at Coppell include Spanish Club, Hope for Africa and Debate.
Another way to be involved with your grade level is by running for a student council position or being a class representative.
"If you want to be involved, but you don't want to be a part of any specific organization, class officers or class council is the way to go. Class councils do a little bit of everything, from party planning to community service," Class of 2014 sponsor Clara Caussey said.